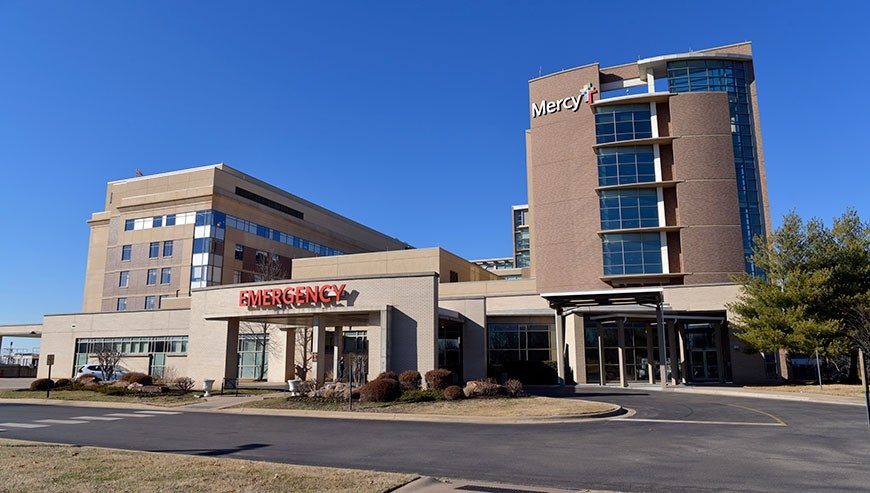 Mercy Hospital Nothwest Arkansas has been a healing presence in the Northwest Arkansas region for more than 120 years.
Recognized by the American College of Cardiology in the 2021 U.S. News & World Report "Best Hospitals" issue for commitment to hospital care for heart patients.
National Top 100 Hospital, the only one in Arkansas, according to IBM Watson Health
Centers for Medicare & Medicaid Services (CMS) five-star rating, the highest given
"A" safety grade from The Leapfrog Group
Antimicrobial Stewardship Center of Excellence designation from the Infectious Diseases Society of America
Bariatric MBSAQIP Accredited Center
Joint Commission Advanced Primary Stroke Center and Acute Stroke Ready Hospital for Outlying Emergency Departments
Gold Plus stroke designation from the American Heart and Stoke Associations
Joint Commission Primary Stroke Center
Chest Pain Center with PCI  (percutaneous coronary intervention) from the Society of Chest Pain Centers
Chest Pain Center v6 accreditation from American College of Cardiology
Cardiovascular rehabilitation certification byfrom American Association of Cardiovascular and Pulmonary Rehabilitation
Joint Commission Gold Seal of Approval in hip and knee joint replacement
Gold Safe Sleep Champion- Designation from the Cribs for Kids National Safe Sleep  Hospital Certification
Energy Star designation from the U.S. Environmental Protection Agency for 10 consecutive years.. An Energy Star facility meets strict energy performance standards and uses less energy.
"Most Wired" according to the American Hospital Association for health information technology
1950 - The community-run Rogers Memorial Hospital opens.
1951 - The Dominican Sisters are asked to take over hospital operations. The name is changed to St. Mary's Hospital.
1995 - St. Mary's transfers to the Sisters of Mercy Health System. 
2008 - Mercy Northwest Arkansas opens a new facility on Interstate 49 in Rogers.
2016 - Mercy announces $247 million Community Presence Plan to expand hospital and clinic operations.
2019 - Mercy completes the expansion with the opening of a new seven-story tower at the hospital.
2020 - Mercy opens a new 22-bed inpatient rehab unit.
Among the first health care organizations in the U.S. to have a comprehensive, integrated electronic health record that provides real-time, paperless access to patient information.
MyMercy, a free service, allows patients to remotely onnect with their doctors, plus see medical information, view test results, renew prescriptions, schedule appointments and e-visits using a personal computer, tablet or smartphone.
Telemedicine allows patients to have virtual visits with specialists from miles away through a secure video connection.
Electronic intensive care unit (eICU) system which provides remote monitoring of intensive care patients.
247,631 visits
---
Outpatient
$8.5 million
---
Traditional Charity Care
$4.7 million
---
Other Community Benefit
$9.5 million
---
Unreimbursed Medicaid
31 Locations
---
Clinic and Outpatient
2,311 Co-workers
---
Hospital Based
145 Physicians
---
Mercy Clinic
68,719 Visits
---
Emergency Room
2,032 Births
---
Maternity Services
Mercy
, one of the 20 largest U.S. health systems and named the top large system in the U.S. for excellent patient experience by NRC Health, serves millions annually with nationally recognized quality care and one of the nation's largest Accountable Care Organizations. Mercy 
is a highly integrated, multi-state health care system including
 more than 40 acute care, managed and specialty (heart, children's, orthopedic and rehab) hospitals, 
convenient and urgent care locations, imaging centers and pharmacies. Mercy has 
900 physician practices and outpatient facilities, more than
4,000
physicians and advanced practitioners and more than 40,000 
co-workers serving patients and families across 
Arkansas, Kansas, Missouri and Oklahoma. Mercy also has clinics, outpatient services and outreach ministries in Arkansas, Louisiana, Mississippi and Texas.