When Margi Burtin recently walked into Dr. Dennis Hite's office, it was as if half a century hadn't passed by. This time, however, it wasn't a house call.
"Exactly 50 years ago, Dr. Hite showed up at mydoor, carrying his medical bag," Burtin said. "I was three months pregnant with my first child and I was afraid I was having complications."
Dr. Hite, who started his Lebanon, Missouri, practice that same week in 1966, wrote Margi his very first doctor's orders: a week of bed rest.
"From there, he became part of the family," Burtin said. "I've had three healthy children and several grandchildren since; they all love and adore Dr. Hite. He's been our doctor through it all."
"When Margi came back to see me, it was absolutely heartwarming," said Dr. Hite. "Fifty years ago, we were so young and just starting out. It's just impossible to comprehend. It's gone so quickly."
But not forgotten. In 1964, Dr. Hite graduated from the University of Missouri School of Medicine, which later presented him an honorary white coat to mark his medical milestone. Today, Dr. Hite still sees patients at Mercy Clinic Family Medicine – Lebanon.
"So much has changed since I started, except the relationship with my patients," Dr. Hite said. "That's why I still do it. It's the deep connection with a lot of folks that I've literally been seeing for 50 years now. I've been honored to be part of their lives, and honored they've asked me to be."
"He loves being a doctor. There's no question," Burtin said. "He's not in it for any other reason. He loves helping people and caring for them – and his patients care for him, too."
"Dr. Hite is a testament to the incredible work being done here at Mercy," said Dave Steinmann, administrator of Mercy Hospital Lebanon. "It's an honor not only to hear stories about his commitment to the community, but to witness it firsthand."
To help Dr. Hite celebrate a half-century of practice, the community is invited to a "come as you please" reception on Friday, July 22, from 1:30 to 3 p.m. in the Mercy Hospital Lebanon conference rooms.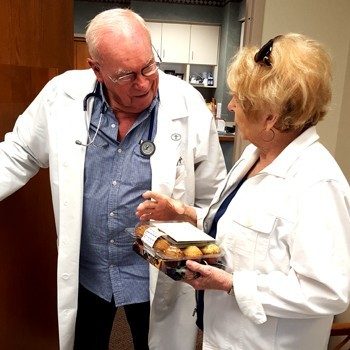 Dr. Hite chats with patient Margi Burtin, exactly 50 years after her first visit.