There's no question Dr. Gary Hoos touched the lives of many people during his time at Mercy. Now cancer patients for generations to come will benefit from his work.
During a memorial service Wednesday at the Curry Cancer Center in Lebanon, the Curry family announced a $50,000 gift in honor of Dr. Hoos. It will help purchase heated massage chairs for the patients receiving chemotherapy at the center.
"Dr. Hoos was instrumental in helping bring the dream of cancer services to Lebanon," said Craig Curry. "We wanted to remember Dr. Hoos for all he's done, especially here in Lebanon. Our family was blessed to get to know Dr. Hoos as a friend and as Tracy's doctor."
Tracy, a cancer survivor herself, is one of the many patients who were stung by the news of Dr. Hoos' passing last week.
"He was dedicated to his patients and we wish to give in his memory to something that will help make cancer patients feel more comfortable and perhaps a little more at ease while they are in the center for treatment," Curry added.
You'll recall a generous donation by the Curry family in February 2008 brought the 3,000-square-foot Curry Cancer Center to fruition. It currently features eight treatment chairs, one bed, and exam rooms with a staff that includes oncologists, a nurse practitioner, registered nurses, a clinical social worker and more.
For images from Wednesday's memorial service, click here.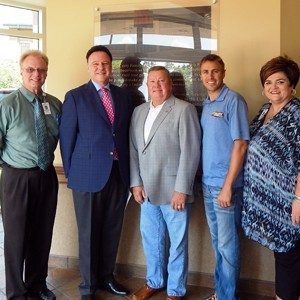 Dave Steinmann, Mercy Hospital Lebanon administrator; Kennith Howe, hospital board chariman; Craig Curry; Brennon Willard, foundation chairman; Karen Simpson-Neasby, vice president of Mercy Health Foundation.