Mercy heart doctors traded their stethoscopes for sledgehammers and tore down a wall to make way for the new Mercy Heart Hospital Springfield.
Located inside the existing main hospital, the heart hospital will bring all cardiovascular care into one location. "We're putting it in the 'heart' of our main hospital and making access easy for patients," said Dr. Alan Scarrow, president of Mercy Springfield Communities. "The idea is to give heart patients one location where they can drive right up, walk a short distance and have access to all our outstanding heart and vascular providers and equipment. It's going to make for an exceptional patient experience and that's what makes it so exciting."
When construction is complete, patients will have access to the heart hospital through the west entrance of Mercy Hospital Springfield.  "The technology that enables us to care for these patients has come so far," said Dr. David Cochran, Mercy cardiologist and vice president of Cardiovascular Services. "We've been at the leading edge by participating in clinical trials and offering the latest advances. Now it's time to reconfigure our space so we can get those treatments to our patients in the most efficient way possible."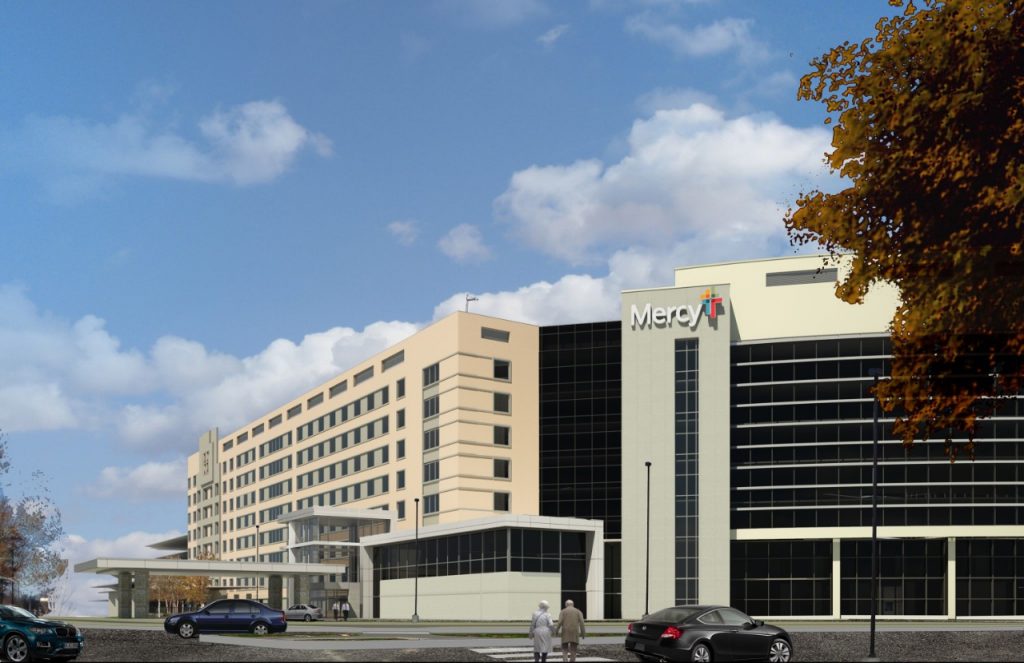 An artist's rendering of the new Mercy Heart Hospital Springfield, opening in 2020.
Bruce Deckard knows how far heart care has come during the past few decades. He had his first major heart attack in 1989 and was rushed to Mercy for double bypass surgery. "They saved my life," Bruce said. Subsequent treatments included another bypass and an implanted pacemaker and defibrillator.
Just this year, Deckard became the first patient at Mercy Hospital Springfield to get a device called CardioMEMS™ HF System. The miniature, wireless monitoring sensor is implanted in the pulmonary artery during an outpatient procedure. It measures pulmonary artery pressure – an early indicator of worsening heart failure – even before a patient notices symptoms such as shortness of breath or weight gain.
"The problem was, I wouldn't go in until I was really sick," Deckard explained. "Now I feel very secure knowing it's keeping an eye on things and helping my doctors monitor my heart." The wireless sensor transmits critical information to a clinician without the need for additional doctor's visits.
Dan Kinney thought his symptoms of shortness of breath and fatigue were due to recent cancer treatment. "I figured the chemo had made me weak," he said. "So as an old jock, I tried to get back into shape. It just wasn't working."
He mentioned the problem to his doctor, who immediately ordered tests. "He said I was lucky. I had a blockage and needed a stent. They went in through my wrist and I was even awake for the procedure. I didn't feel a thing, but afterward I felt so much better. It made all the difference."
After that, Mercy's cardiac rehabilitation program helped Kinney get back to his regular activities. "I was worried I wouldn't be able to do all the things I love," he said. "But within a couple of weeks I was already progressing and had the motivation to continue on my own." These days, he exercises regularly and enjoys doing yard work.
Peter Westrum has also enjoyed a very active lifestyle after getting one of Mercy Springfield's most advanced heart treatments nearly two years ago. He's taken several long RV trips with his wife to visit family and friends.
Back in the summer of 2014, his heart failure had progressed so much that even eating made him short of breath. Doctors recommended a left-ventricular assist device, or LVAD. The partially-implanted device works like a jet engine for the heart, replacing some of the work of the left ventricle as it circulates the blood throughout the body. It's a commitment that requires the patient to stay connected constantly to a power source, like a battery pack. For some, it's a bridge to transplant. For Westrum, it's been a way to put more life into his years. "I'm a congestive heart failure survivor, thanks to the LVAD program and the healing grace of God," he said.
The heart hospital remodeling project encompasses approximately 135,000 square feet and will cost about $110 million, which includes moving the hospital cafeteria to the south side of the facility. That will allow for kitchen upgrades as well as easy access and more dining space for hospital visitors and co-workers. Construction is expected to be finished by fall of 2020.
Even with decades of heart problems, Bruce Deckard isn't worried about his future. He knows how far care has come since that first heart attack. "Back then, even getting a bypass was pretty unusual," he said. "Now it's so commonplace. I'm just astounded and happy Mercy is in my area and moving as fast as they can to get all the new technology. They give me the confidence to pursue my life to the fullest because I know they're standing by ready. I have confidence I'm going to live a long time."