August 12, 2016
WATONGA, Okla. – Just in time for the Summer Olympics – Mercy Hospital Watonga is celebrating the Gold Apple Recognition from Prevention Partners and the Oklahoma Hospital Association's WorkHealthy Hospitals initiative. The hospital has been recognized for providing and promoting healthy, affordable and delicious food options for co-workers and visitors. It is the highest standard of excellence that a hospital can be awarded for nutrition services and Mercy Hospital Watonga is one of only 27 hospitals in the country to be given the honor.
"We set out to promote change both in the hospital and in our community," said Heather Gillean, supervisor of nutrition services at Mercy Hospital Watonga, who, along with hospital leaders, has been working toward this goal for nearly three years. "We changed not only our policies, but our entire cafeteria and the way we display food in the hospital."
In addition to listing the calories, trans-fats and sodium in each cafeteria item; only healthy foods are displayed. Co-workers and visitors who want a soda to go with their meal now have to ask for it directly.
"We do this because we found that a lot of people reach for soda or soft drinks out of habit," said Gillean, who notes that the hospital now displays fruit-infused waters instead. "This allows people to make informed and intentional decisions about what they put into their body."
Hospital leaders say these changes have made a noticeable difference. Since the program was implemented, cafeteria co-workers are reporting a large decrease in the amount of desserts and unhealthy items that are sold. Guests have also found it is cheaper to eat healthy at Mercy. The healthy meal of the day – which includes a protein, brown rice and fresh vegetables – costs only $2.50. A regular meal costs a dollar more.
"By focusing on and promoting a culture of wellness, we've found that co-workers and guests are not only willing to make these changes, but they're also excited about it," said Bobby Stitt, administrator at Mercy Hospital Watonga. "If it saves both their wallet and their waistline, that's a win-win situation."
Mercy Hospital Watonga is no stranger to earning gold. The hospital has previously been recognized as a gold-standard recipient for promoting physical activity and making hospital grounds tobacco free. In addition, co-workers are provided healthy living information and tools that allow them to track their successes and compete in online workshops. Financial incentives are also available for those who complete a healthy activity log and other activities each quarter. For more information on Mercy Hospital Watonga, contact 580-623-7211.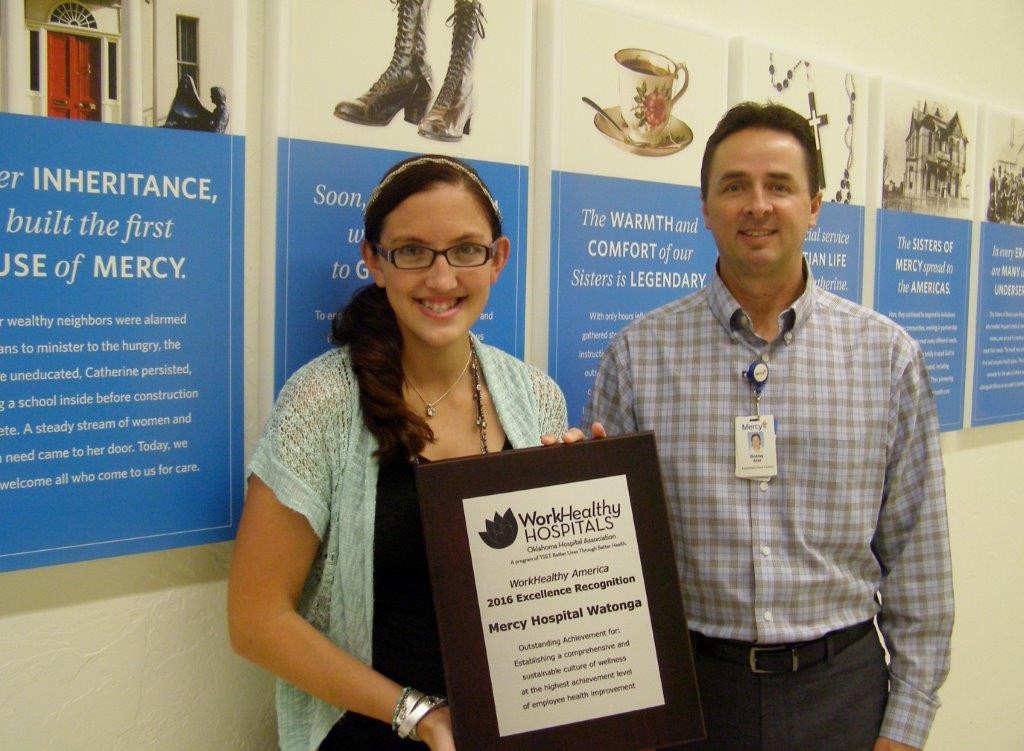 Media Contacts
Meredith Huggins
El Reno, Guthrie, Kingfisher, Oklahoma City, Watonga