Mercy St. Francis Hospital is another step closer to purchasing five new defibrillators, thanks to a $5,000 donation from Landmark Bank.
Representatives from the branch location at 105 W. 6th St. in Mountain View presented the check to the Sr. M. Cornelia Blasko Foundation / Mercy Health Foundation on Tuesday, Nov. 29.
"Our Landmark friends' generosity paves the way for an even better experience for patients at Mercy," said Karen Simpson-Neasby, vice president of Mercy Health Foundation. "It will have an impact on quality of care for many years to come."
With this week's donation, the Foundation has so far raised $41,150 of its $112,000 goal. The project will pay for five Zoll R-Series ALS Defibrillators to be used in the hospital's emergency and operating rooms, as well as cardiopulmonary and medical-surgical units. Through easy-to-use technology, the defibrillators will improve recovery for heart attack patients and provide more features to providers to assess patients' needs.
"We're proud to be able to contribute to such a worthwhile project," said Steve Vines, Landmark Bank regional president, southern Missouri. "Much like Landmark Bank, Mercy St. Francis Hospital has been a cornerstone of the Mountain View community for many years, providing quality health care that's normally not available to a community the size of ours. We hope that this donation helps in some small way to keep that tradition going."
To make a donation to the defibrillator project, please call 417-533-6192. Mercy Health Foundation, a non-profit organization, supports projects that provide health care scholarships, advanced technology and capital needs. To learn more, click here.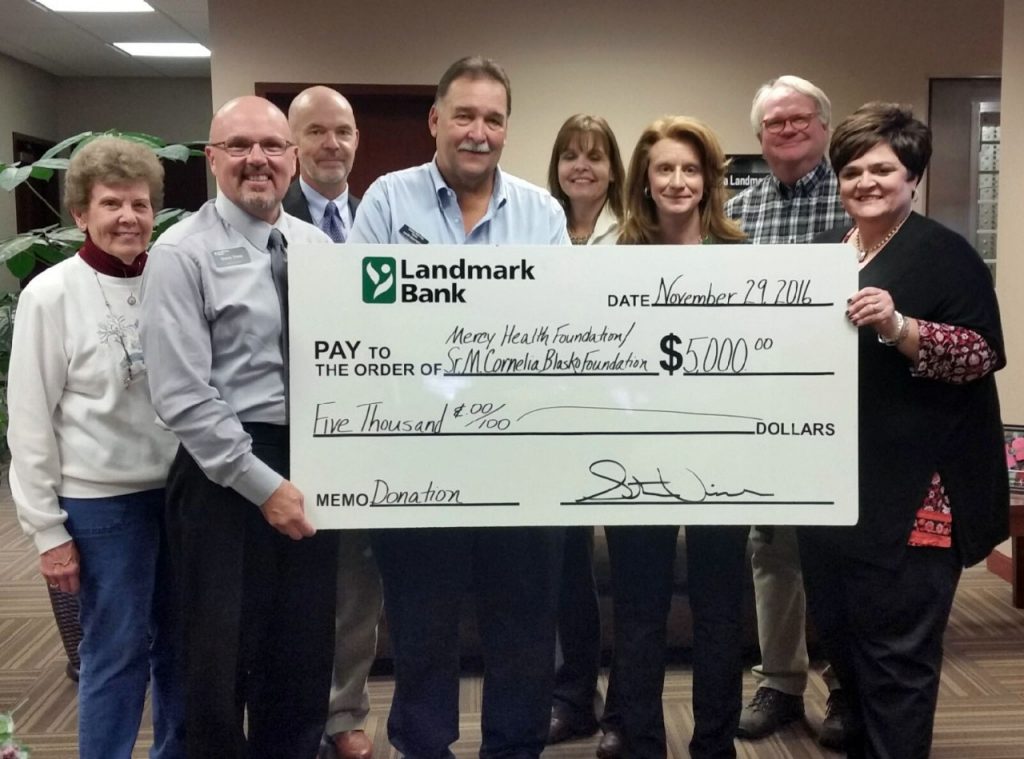 Left to right: Jane Foval, Mercy St. Francis Auxiliary president; Steve Vines, Landmark Bank regional president, southern Missouri; Charles Cantrell, Landmark Bank director; David Barnett, Mercy Health Foundation – Mountain View chairman; Cindy Bradford, Landmark Bank vice president; Cindy Tooley, Mercy St. Francis Hospital executive director of operations; Jon Smith, Landmark Bank director; and Karen Simpson-Neasby, Mercy Health Foundation vice president.
Mercy Springfield Communities is comprised of Mercy Hospital Springfield, an 866-bed referral center; an orthopedic hospital; a rehab hospital; a children's hospital; five regional hospitals in Lebanon, Aurora, Cassville, Mountain View, Missouri and Berryville, Arkansas; and Mercy Clinic, a physician clinic with nearly 700 doctors and locations throughout the region. It is part of Mercy, named one of the top five large U.S. health systems in 2017 by Truven, an IBM Watson Health company. Mercy serves millions annually and includes 43 acute care and specialty (heart, children's, orthopedic and rehab) hospitals, more than 700 physician practices and outpatient facilities, 40,000 co-workers and more than 2,000 Mercy Clinic physicians in Arkansas, Kansas, Missouri and Oklahoma. Mercy also has outreach ministries in Louisiana, Mississippi and Texas.