All communities have that one special, world-class dining place that few seem to know about. However, once experienced, it becomes the hands-down favorite. So, too, does Joplin have a world-class health care gem in the Mercy Cancer Center.
The Mercy Cancer Center has some of the most current technology for delivering the most advanced care in the region. Even so, technology does not deliver the care – people do.
Besides amazing doctors and nurses, Mercy has our finest people delivering your care; people who may not come to mind when thinking of a cancer center. Mercy's people care about you as an individual, whether it be the nurse navigators, therapists, an oncology social worker, financial counselors, pharmacists and others. These are the people who make the Mercy difference.
An example is Sisters Health Boutique, where board-certified mastectomy fitters Lisa and Crystal are ready to assist with the custom fitting of mastectomy and specialty apparel needs for breast cancer patients. Lisa and Crystal also teach the Look Good, Feel Better class addressing the cosmetic side effects from a patient's current cancer treatment.
Amazing also can be used to describe Mercy's technological advances:
Research. Mercy Cancer Center's oncologists are participating in the GRAIL clinical research study that soon may enable the detection of cancer through a blood test. This world-class research study uses gene sequencing and the study of DNA fragments to help detect cancer at the earliest and most curable stage.
"We are excited that Mercy Joplin has access to this cutting-edge clinical trial that our patients can participate in," said Dr. Samir Dalia with Mercy Clinic Oncology and Hematology. "This is a nationwide trial called the Circulating Cell-Free Genome Atlas study. Enrolling 10,000 patients, this study will evaluate whether there are early signs in the blood that may detect future cancers. We are very excited to be the only center to offer this and other cancer clinical trials to people in Southwest Missouri."
Oncology. Your surroundings matter. Mercy recognizes that healing happens when you're in a beautiful setting, which is why the medical oncology team delivers chemotherapy and immunotherapy in the Oncology Infusion Center with a healing garden directly outside.
Radiation oncology. Procedures using the newest Elekta linear accelerator provide precise treatments using tumor tracking. Stereotactic radiosurgery techniques reduce the number of treatments required for some cancers from many weeks to a few days. Permanent prostate seed implants, a form of radiation therapy, also are available.
Surgery. The Mercy Cancer Center is supported by highly skilled breast, thoracic and general surgeons. These surgeons now are complemented by a new plastic surgeon.
Mammography. The Mercy Breast Center offers Joplin's only 3D mammography and the region's only automated breast ultrasound (ABUS). It is particularly beneficial for women with dense breast tissue, which increases a woman's risk of developing breast cancer and can hide breast cancers on 2-D mammography.
Your cancer care team
All cancer specialties work together as a team to coordinate your best course of care at multidisciplinary treatment planning conferences for each patient.
"All of the cancer care at Mercy is located in a single location, which is convenient for every patient," said Dr. David Croy, department chair of Mercy Clinic Oncology and Hematology. "Having the latest technology enables us to use the best techniques, but 'care' can only be delivered by people, and that is no secret."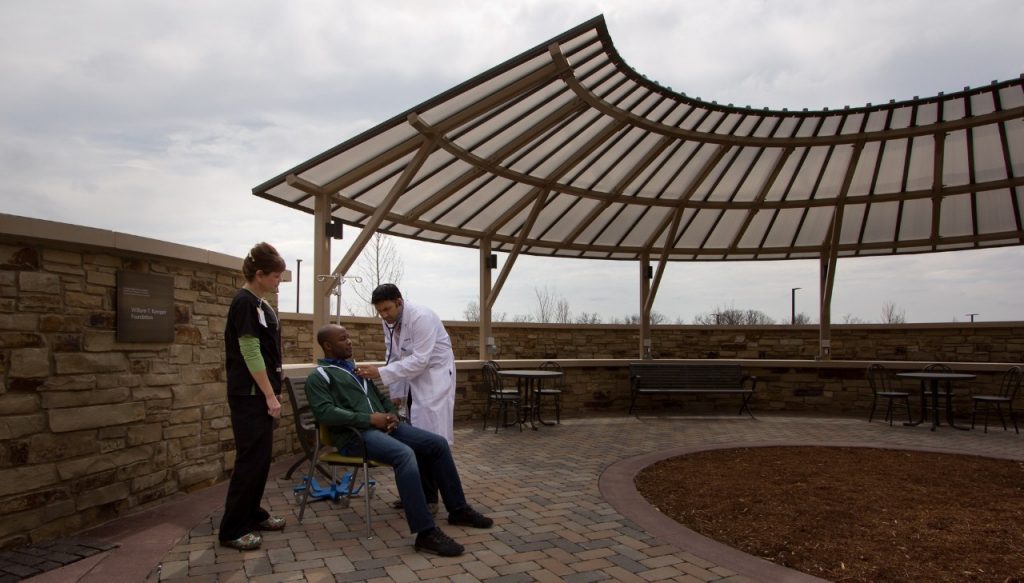 Practices