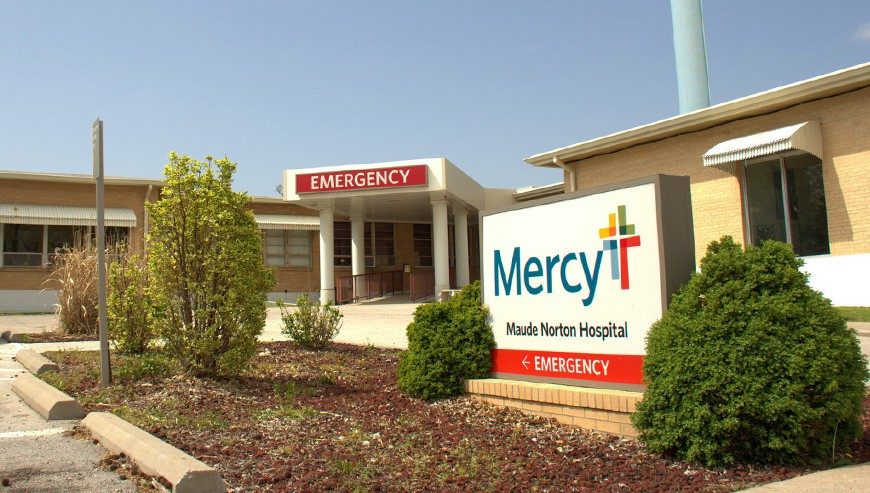 Mercy Hospital Columbus has been a healing presence in the Columbus region for over 20 years.
Respiratory therapy
Speech Therapy
Visiting specialty clinics for cardiology, podiatry, and cardiac, thoracic and vascular surgery
Recognized by the American College of Cardiology in the 2021 U.S. News & World Report "Best Hospitals" issue for commitment to hospital care for heart patients.
1917: William Norton home donated and hospital established
1952: A more modern building opens, replacing Norton Mansion
1967: New addition to hospital opens
1999: Joins St. John's Joplin and Catholic Health Initiatives
2009: Joins Sisters of Mercy Health System
2012: Becomes Mercy Maude Norton Hospital
2014: Becomes Mercy Hospital Columbus
Among 7 percent of health care organizations nationwide to have a comprehensive, integrated electronic health record that provides real-time, paperless access to patient information
MyMercy, a free service, allows patients to connect online with their doctors, plus see medical information, view test results, renew prescriptions and schedule appointments using a personal computer or smartphone
Mercy Meds electronic medication administration system improves safety by monitoring medications and dosage through computerized, bar-coded technology
2,138 visits
---
Emergency Room
$608,000
---
Traditional Charity Care and Unpaid Cost of Medicaid
51 Co-workers
---
Hospital Based
20 Discharges
---
Acute Inpatient
Mercy, one of the 20 largest U.S. health systems and named the top large system in the U.S. for excellent patient experience by NRC Health, serves millions annually with nationally recognized quality care and one of the nation's largest Accountable Care Organizations. Mercy is a highly integrated, multi-state health care system including more than 40 acute care, managed and specialty (heart, children's, orthopedic and rehab) hospitals, convenient and urgent care locations, imaging centers and pharmacies. Mercy has 900 physician practices and outpatient facilities, more than 4,000 physicians and advanced practitioners and more than 45,000 co-workers serving patients and families across Arkansas, Kansas, Missouri and Oklahoma. Mercy also has clinics, outpatient services and outreach ministries in Arkansas, Louisiana, Mississippi and Texas.
Jordan Larimore
Carthage, Columbus, Joplin