A devastating illness or injury can change a person's life, and some are never able to live at home again.
For others, the right rehabilitation at the right time makes all the difference. Getting patients back to their homes and families is the goal for Mercy's rehabilitation hospitals in St. Louis and Springfield, Missouri, and Oklahoma City. New rankings prove the rehab teams are making a real difference for patients.
Of the nearly 800 rehab hospitals reporting their patient outcomes to the Uniform Data System for Medical Rehabilitation, all three of Mercy's dedicated rehabilitation hospitals rank in the top 10 percent for how well their patients recover. It means more patients are regaining enough necessary skills to go home, rather than to a skilled nursing facility.
"We want our patients to leave rehabilitation with the basic skills necessary to live at home," said Dr. Hollis Bell, physician lead for Mercy's physical medicine and rehabilitation programs.  "Our teams work with patients and their families to set goals and then do the work to reach those goals. Rehab is challenging, but when you know you have a caring and experienced team cheering you on amazing things are possible."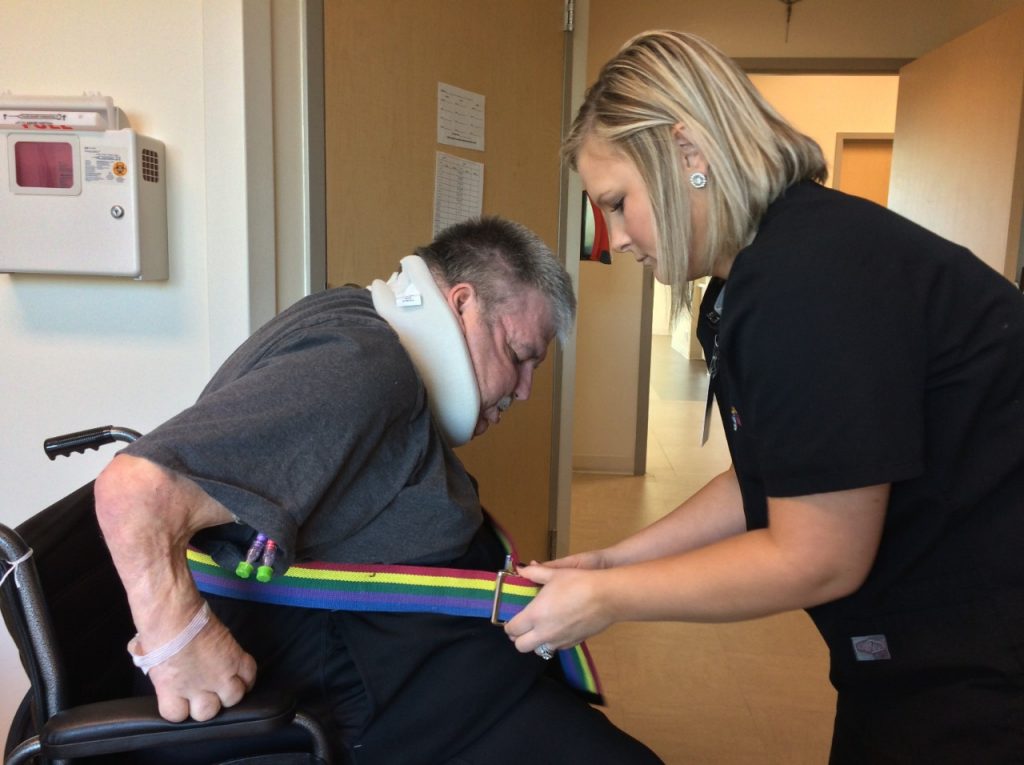 Patient Greg Redfern receives help getting up from a wheelchair. After a stay at Mercy Rehabilitation Hospital Springfield, he is once again able to walk.
Mercy's patients agree. Greg Redfern has had three separate stays at Mercy's rehab hospital in Springfield. A complex health history made rehab necessary for two joint replacements. Then, he was diagnosed with a rare condition called myasthenia gravis, which affects the muscles' ability to function. He was driving down the highway one day when his eyelids closed and refused to open. "It was terrifying. Somehow, I managed to pull over."
When the disease affected his breathing, he ended up in the intensive care unit on a ventilator. He lost his ability to stand and walk. "I knew immediately where I wanted and needed to go – Mercy rehab." These days, Redfern is back home and is once again on his feet.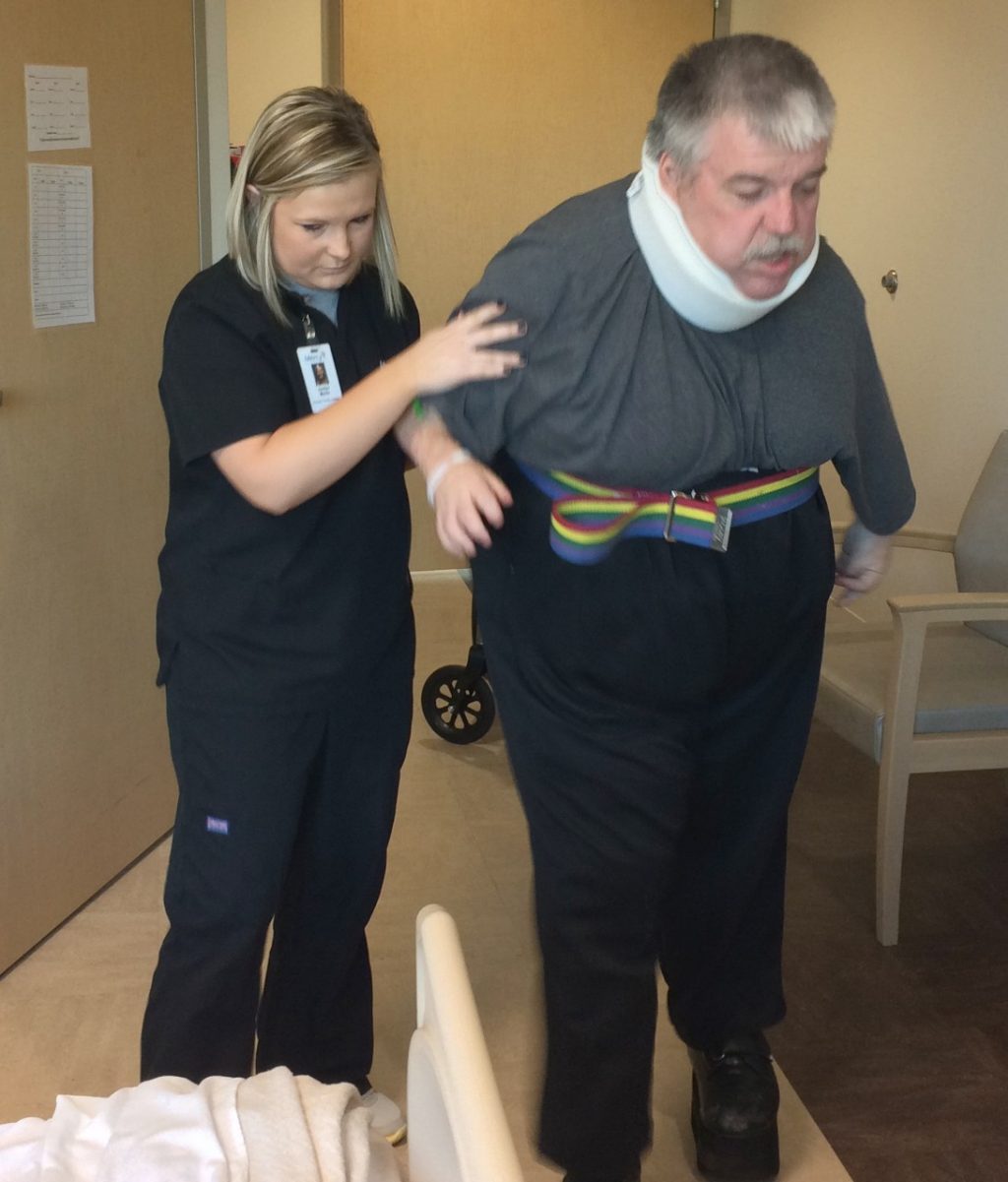 Patient Greg Redfern walks again after a stay at Mercy Rehabilitation Hospital Springfield. Mercy's three dedicated rehabilitation hospitals all rank in the top 10 percent for how well their patients recover from serious illness or injury.
It's a similar story for Terry Knox, who's had three separate rehab visits at Mercy's facility in Oklahoma City after back surgery. "It's always been quite pleasant as far as staying in the hospital goes," he said.
As the rankings show, it's the care that's happening within those pleasant surroundings that makes all the difference. "When I would watch the other therapists working with patients, I realized just how hard they worked and how good they are at what they do," Knox said. "You have to be a special person to do that kind of work, and they all did it with a smile on their face."
Mercy's rehabilitation hospitals are operated in partnership with Kindred Healthcare, the nation's largest provider of post-acute care. These specialized facilities frequently take patients other rehab hospitals turn away, including those with spinal cord injuries, burn victims, people with severe traumatic brain injuries and in Springfield, adolescents as young as 13.