Could small amounts of genetic material in the bloodstream be used to detect cancer in its earliest stages?
Mercy Research has joined more than 70 health care organizations across the U.S., including Cleveland Clinic and Mayo Clinic, to help answer that question. They're working with GRAIL, a life sciences company, to collect blood samples from 7,000 newly-diagnosed cancer patients and 3,000 participants without cancer nationwide. The study is now available for patients at Mercy hospitals in Springfield and Joplin, Missouri, and Fort Smith, Arkansas.
GRAIL will analyze the blood samples and map them – looking for what's common among cancer patients that makes them different from those without cancer. The ultimate goal is to detect cancer in its earliest, most curable stage, and put an end to diagnoses that leave little hope for patients and families.
"Our approach will produce more than a terabyte of data per individual," said Jeff Huber, chief executive officer of GRAIL. "We'll create datasets of a scale and complexity that are unprecedented in genomic medicine."
The hope is that researchers can use the information to find patterns of cancer that can be detected in the blood, before the tumors advance.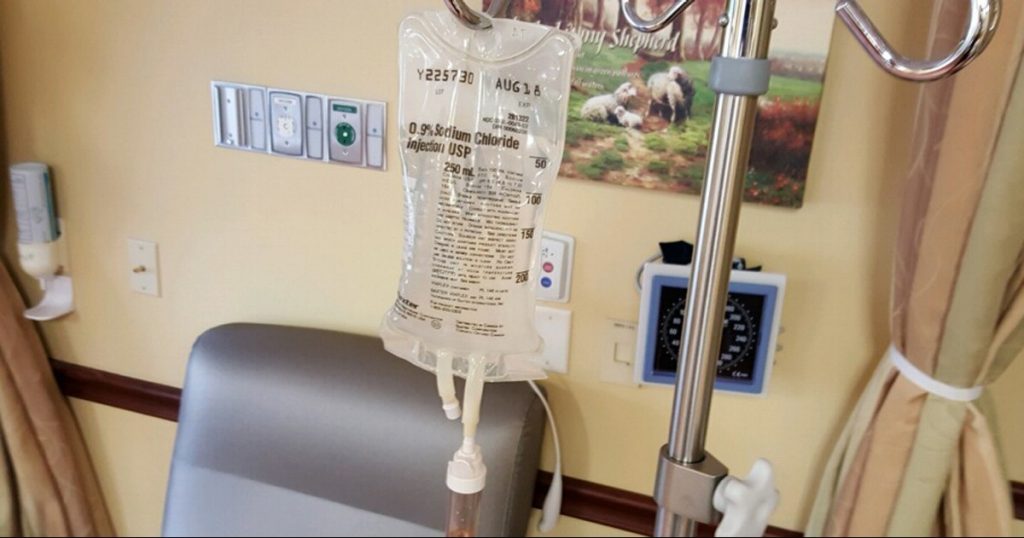 A chemotherapy infusion bag is ready for a patient's cancer treatment.
It's a lot of technical science, but for Mercy patient Larry Coale, participating is a way to help others after his own esophageal cancer diagnosis. "All I did was contribute some blood," he said. "I figured if that could help other people someday, then I was willing."
Dr. Mohan Tummala, Mercy oncologist and hematologist, says that's exactly what this study will do. "This represents the future of cancer diagnosis and treatment," he said. "Treatments that we are currently using are the result of research we worked on 10 years ago. This has the potential for immeasurable benefit, and we hope to see huge leaps in cancer research in the next five to 10 years."
It's why Larry's wife, Kathy, agreed to participate in the study as part of the control group of those without cancer. "My husband's treatment was based on other patients who agreed to be part of research, and we're just so grateful to them," she said. "I'm amazed at the research that's been done and I can't wait for more. We wanted to help get everyone closer to a cure."
About GRAIL
GRAIL is a life sciences company whose mission is to detect cancer early when it can be cured. GRAIL is using the power of high-intensity sequencing, population-scale clinical trials, and state of the art Computer Science and Data Science to enhance the scientific understanding of cancer biology and develop blood tests for early-stage cancer detection. The company has secured over $1B in venture funding led by ARCH Venture Partners and including Amazon, Bezos Expeditions, Bill Gates, Bristol-Myers Squibb, Celgene, GV, Illumina, Johnson & Johnson Innovation, Merck, McKesson Ventures, Sutter Hill Ventures, Tencent, Varian Medical Systems, and other financial partners. For more information, please visit www.grail.com.
Mercy Research is a not-for-profit organization wholly owned by Mercy.  Mercy Research is one of the nation's largest, fully integrated community health system-based research organizations, focused on being a top-tier clinical research, product development and data analytics team. We achieve this through participation in clinical trials and the development of new medical products, medical treatments and delivery systems that transform lives and improve the overall community health, in keeping with the mission of Mercy to bring the healing ministry of Jesus to life through compassionate care and exceptional service.  Mercy Research participates in clinical trials in a wide variety of medical specialties, including oncology, cardiovascular, medical device and pharmaceutical trials.  For more information, please visit www.mercyresearch.com.
Mercy, named one of the top five large U.S. health systems in 2017 by Truven, an IBM Watson Health company, serves millions annually. Mercy includes 44 acute care and specialty (heart, children's, orthopedic and rehab) hospitals, more than 700 physician practices and outpatient facilities, 40,000 co-workers and more than 2,000 Mercy Clinic physicians in Arkansas, Kansas, Missouri and Oklahoma. Mercy also has outreach ministries in Arkansas, Louisiana, Mississippi and Texas. 
Media Coverage