More than 50 million Americans have sleep disorders and many don't realize it. That's where Mercy St. Francis Sleep Center steps in; now the team's hard work is getting national attention.
"We're very proud to announce our accreditation status by the Accreditation Commission for Health Care (ACHC)," said Miriam Johnson, manager of respiratory therapy. "That means we've proven ourselves to meet high, national standards not only at the center itself, but also through our home sleep testing."
At Mercy St. Francis Sleep Center, a sleep therapist walks patients through an in-depth, one-on-one discussion before they're wired with sensors for an overnight stay. Data is analyzed by a board-certified sleep medicine specialist and put into a secure database, then sent to the patient's physician.
In recent years, the center underwent major upgrades, including everything from analysis software to state-of-the-art cameras that can pan, tilt and zoom, as well as the addition of microphones and amplifiers to monitor things like breathing patterns, muscle movement, brain waves and heart rate.
"If you're nodding off during the day, or having trouble getting a good night's sleep, you might need to come see us," Johnson said. "We're also seeing more seriously ill patients, including those with Chronic Obstructive Pulmonary Disease (COPD) or heart issues."
Chronic sleep disorders include insomnia, snoring, sleep apnea and restless leg syndrome. Some of the common signs or symptoms of untreated sleep apnea include depression, fatigue, diabetes, hypertension, acid reflux, memory problems, fibromyalgia, and morning headaches. If you experience any of these problems, you should talk to your doctor about referring you for a sleep study.
Mercy St. Francis Sleep Center is located at 100 W. US Highway 60. To learn more about services offered, call 417-934-7045.
ACHC is a not-for-profit organization that has stood as a symbol of quality and excellence since 1986. Click here to learn more.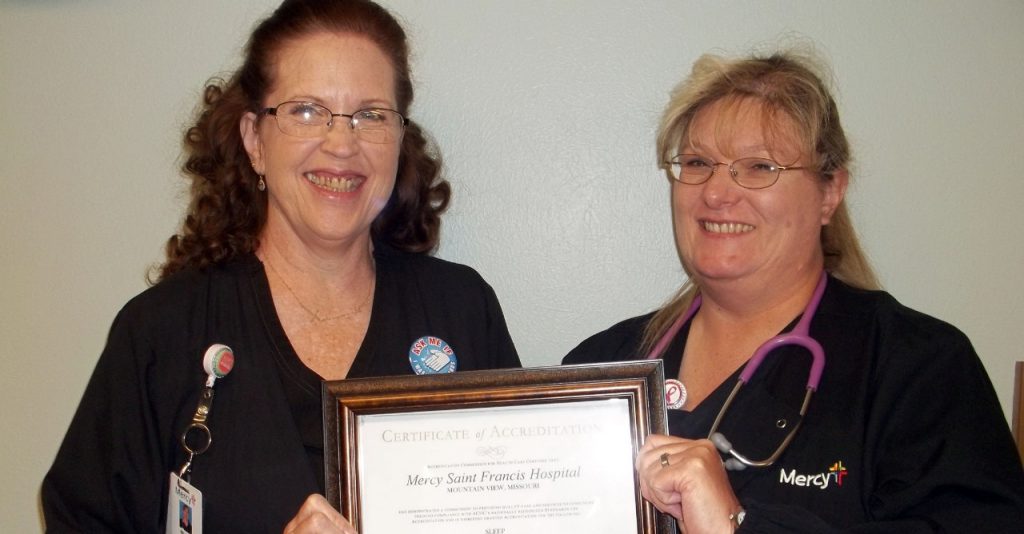 Sleep center manager Mirian Johnson (left) and sleep technician Annette Johnson display their sleep center accreditation certificate.