Mercy is building on a promise to bring better health care to the Bolivar community. Just months after opening its first clinic in the region, a groundbreaking marked the start of a bigger, more accessible facility about a mile down the road.
"Convenience is key and timing is everything," said Dr. Alan Scarrow, president of Mercy Springfield Communities. "Last year alone, more than 4,000 Bolivar patients drove to Springfield for imaging studies and another 2,000 traveled for endoscopies or other GI procedures. We're bringing those services – in addition to many new ones – closer to home for patients and their families."
Mercy's planned 43,000-square-foot, stand-alone clinic at the intersection of Highways 13 and 83 (west of Springfield Avenue and south of Crown Power) will include two main entrances and an open floor plan designed to enable easier access for patients. There will be room for future growth, in addition to the following current plans:
Family medicine practice
Urgent care
Imaging center with MRI, X-Ray, CT scan and ultrasound
Infusion center
3D mammography
Specialty clinic with rotating physicians
Specialty procedure area
Laboratory
Cardiac Rehabilitation
Endoscopy and stress testing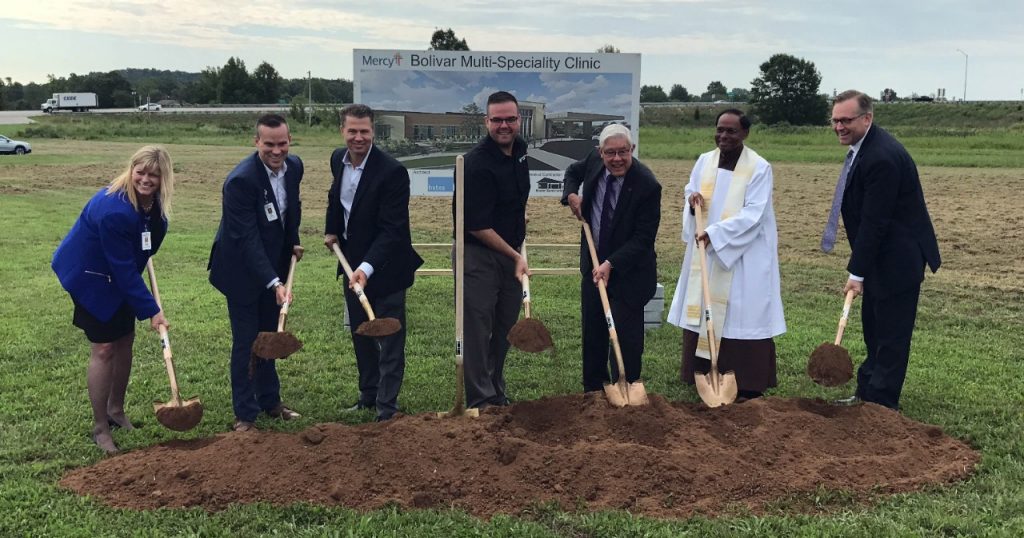 "Not only will patients have convenient access to nurses, primary care, medical and surgical specialists, they will also be able to better manage their chronic illnesses like diabetes, high blood pressure, COPD and asthma with the help of our virtual care service," Dr. Scarrow said. "This means expanding our reach to people where they are – at home, work or on their mobile devices – rather than just where Mercy is physically located."
"Since we began offering services last spring, the response and support from the community has been overwhelmingly positive," said nurse practitioner Brandy McNamara. "When you add in the buzz about our future expansion, it's really an exciting time for us at Mercy."
Construction is expected to last about 15 months, with the multispecialty clinic operating by late winter 2018. Crews will demolish the current tractor showroom on the 3-acre property before building on the north end of the land.
The current Mercy Clinic Primary Care and Convenient Care – Bolivar, located at 2520 S. Springfield Ave., Suite A, which offers a full range of services for the entire family, including treatment of minor illness and injuries; physical exams and sports physicals; diagnosis and treatment of adult and pediatric conditions; Welcome to Medicare exams; well child visits; on-site laboratory, and flu shots or other immunizations. Local appointments with a specialist are currently available for ear, nose and throat, and podiatry. Other services to be offered soon: orthopedics, cardiology, neurology and virtual care. For your convenience, walk-in appointments are also welcome from 8 a.m. to 7 p.m. Monday through Friday, 9 a.m. to 5:30 p.m. Saturday and 1 to 5 p.m. Sunday.
Photos from the Aug. 2017 Groundbreaking
In the News: Mercy's Bolivar Clinic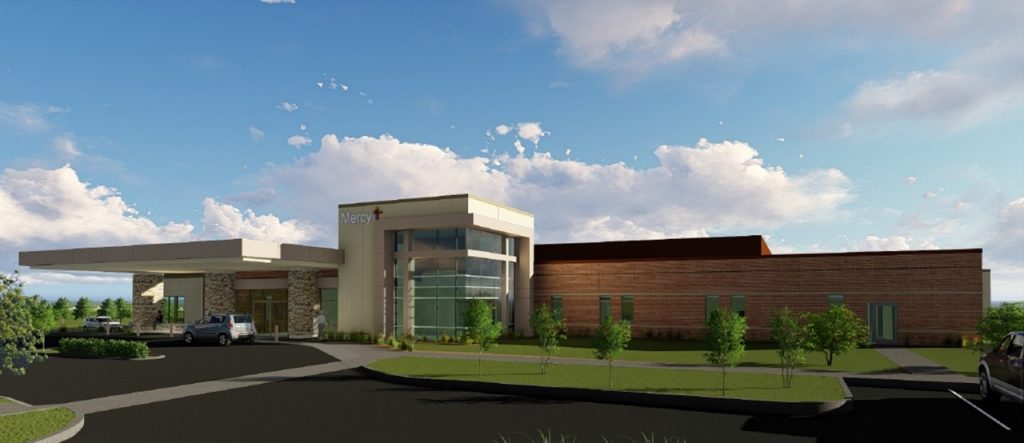 Mercy Springfield Communities is comprised of Mercy Hospital Springfield, an 866-bed referral center; an orthopedic hospital; a rehab hospital; a children's hospital; five regional hospitals in Lebanon, Aurora, Cassville, Mountain View, Missouri and Berryville, Arkansas; and Mercy Clinic, a physician clinic with nearly 700 doctors and locations throughout the region. It is part of Mercy, named one of the top five large U.S. health systems in 2017 by Truven, an IBM Watson Health company. Mercy serves millions annually and includes 44 acute care and specialty (heart, children's, orthopedic and rehab) hospitals, more than 700 physician practices and outpatient facilities, 40,000 co-workers and more than 2,000 Mercy Clinic physicians in Arkansas, Kansas, Missouri and Oklahoma. Mercy also has outreach ministries in Arkansas, Louisiana, Mississippi and Texas.