January 4, 2018
Nearly 5.7 million adults in the United States have heart failure, and half of those will die within five years of diagnosis. With limited options for controlling symptoms, Mercy is offering a clinical trial for an investigational device called the BAROSTIM NEO® in St. Louis and Springfield, Missouri.
Patients with heart failure, a condition where the heart cannot pump enough blood to meet the body's needs, struggle everyday with fatigue, shortness of breath and swelling in the legs and ankles. They are often in and out of the hospital to manage symptoms.
Nancy Evans, 81, of Wildwood, Missouri, has congestive heart failure and was short of breath just standing at the mirror putting on makeup. "I thought that was the way it was, so I lived with it," Evans recalled. That was until she opted for the clinical trial for BAROSTIM NEO.  
The BeAT-HF (Baroreflex Activation Therapy® for Heart Failure) clinical trial will determine if the investigational BAROSTIM NEO implantable device helps patients live longer, reduces heart failure-related hospitalizations, improves quality of life and is safe.  It stimulates special cells in the arteries of the neck called baroreceptors to signal the heart, the kidney and blood vessels that may improve heart function and reduce heart failure symptoms. 
After the implant, Evans feels much better. "I can walk and talk without getting out of breath. I have a different outlook on life," she said. "People even tell me I look different; my complexion is better."
"This study will determine if the BAROSTIM NEO can help people with congestive heart failure, who like Ms. Evans, have trouble getting through activities of daily living," said Dr. Khaled Awad, principal investigator and Mercy Clinic electrophysiologist. "Patients will stay overnight and go home the next day with little to no restrictions."
Evans said she would recommend the trial to others, "Why not give it a try?" she asked. "Why not take the chance of a better life expectancy and feeling better? I'm glad I did it."
CAUTION: Investigational device. Limited by Federal (or United States) law to investigational use. For a list of all potential benefits and risks go to www.cvrx.com/benefit-risk-analysis/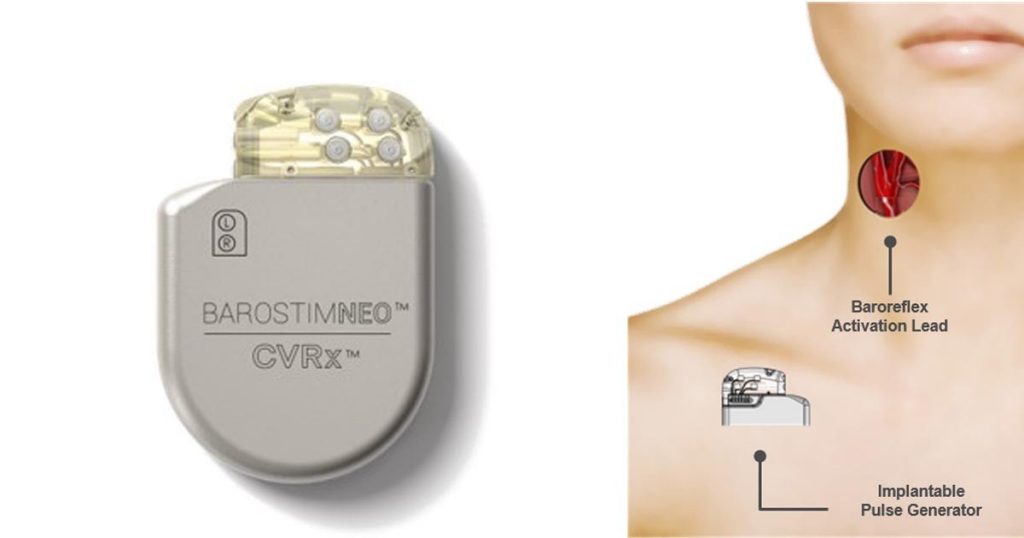 BAROSTIM NEO® device and illustration showing where it's implanted.
For more information about the study, please call Mercy Research: 
Springfield: 417-820-9587
St. Louis: 314-251-3920
Media Contacts
Sonya Kullmann
Branson, Cassville, Lebanon, Mountain View, Rolla, Springfield, Aurora
Bethany Pope
St. Louis, St. Charles, St. Louis - South, Troy, Festus