February 26, 2018
By Dr. Joseph Kahn, president of Mercy Kids
My five grandkids range in eating style from "She'll eat anything within arm's reach" to "She lives on grilled cheese and plain noodles."

Still, although I've never seen a child starve himself or herself in more than 30 years of practice, parents fret about their children's nutrition. In that light, you may be asking yourself, "Why won't my child eat?"
Generally, one or more of three primary reasons may apply: (1) He or she is exerting independence; (2) he or she simply isn't hungry at the moment; or (3) (sorry mom and dad), the food tastes unappealing.
That said, try these four tips to make a picky eater grow gustatorily:
Encourage your child to try new things without threatening his or her independence. The real value is not that he or she will eat asparagus today, but that he or she will learn to try new things and eventually like green veggies.
Don't bribe. Serve really small portions, and encourage your child to eat by emphasizing a food's color, appearance, aroma and texture, not its flavor.
Try adding a bit of embellishment. That broccoli may become more appealing with some ketchup or cheese sauce on it.
Rather than surrender and grab some cereal, try giving your child control over what he or she needs to try.
Also, parents, consider allowing your children to help make dinner. Not only does this allow quality time between you and them, but also, kids involved in preparing their own food show more willingness to try new things. If they help mix ingredients for dinner or select the sides to be served (from your choices, of course), they may show an increased likelihood of taking ownership in the meal and want everyone to eat it.
Otherwise, if you commonly hear "I'm not hungry now" during mealtime, recognize that a 2-year-old needs far fewer calories per pound than he or she did the year before, as the speed of growth slows. If food consumed at any one meal seems insufficient, evaluate your child's intake over a three- to five-day period.
Because it's natural to prefer sweet foods to bitter ones, moreover, preparation can make a big difference. Maybe your child will like his or her vegetables roasted instead of boiled, fresh instead of canned. Try serving some things raw; your child may prefer carrots cold to cooked or firm to soft.
Finally, feed your kids well, and avoid processed, prepared and junky foods. Turn off the TV, and make mealtime quality time with mom and dad – and remember to model behavior. If you eat a variety of good foods, your child should, too … eventually.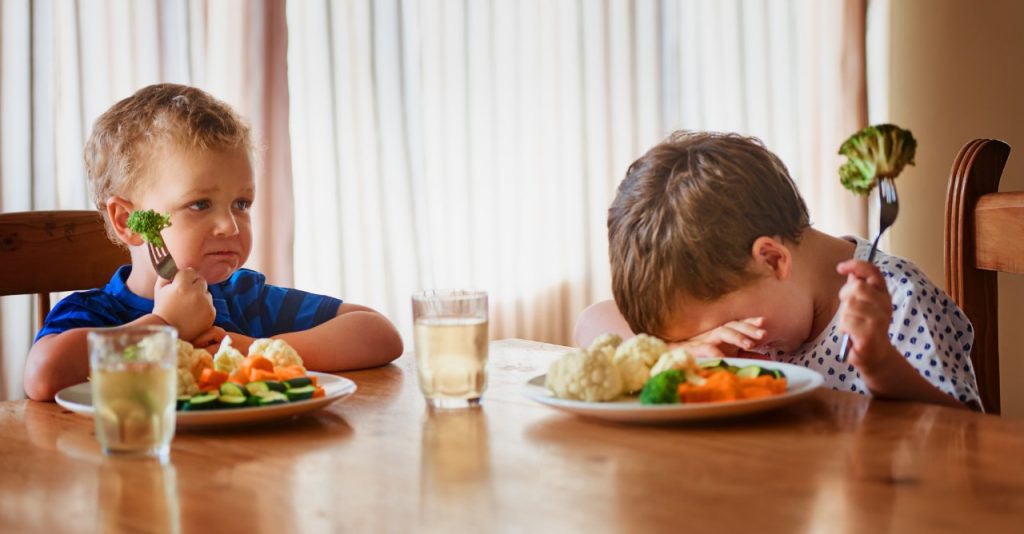 Resources from Mercy Kids
Every child. Every need. Every day with Mercy Kids.
Every child's journey from birth to adulthood is individual. Every parent wants that journey to be a healthy one. Sometimes, that means the journey includes routine care that every child needs, such as a wellness exam or treating an ear infection. Sometimes, the journey requires more specialized care, such as correcting a birth defect or treating cancer.
At Mercy, children's care involves more than just doctors for children, more than a hospital treating children. Mercy Kids is our way of caring for children's health and well-being, marked with personalized and comprehensive services from conception to graduation. The pediatricians and pediatric specialists who practice at Mercy offer exceptional medical knowledge and clinical skills for children in a caring, compassionate environment.
Media Contacts
Bethany Pope
St. Louis, St. Charles, St. Louis - South, Troy, Festus
Mercy, named one of the top five large U.S. health systems in 2017 and 2016 by Truven, an IBM Watson Health company, serves millions annually. Mercy includes more than 40 acute care and specialty (heart, children's, orthopedic and rehab) hospitals, 800 physician practices and outpatient facilities, 44,000 co-workers and 2,100 Mercy Clinic physicians in Arkansas, Kansas, Missouri and Oklahoma. Mercy also has clinics, outpatient services and outreach ministries in Arkansas, Louisiana, Mississippi and Texas. In addition, Mercy's IT division, Mercy Technology Services, supply chain organization, ROi, and Mercy Virtual commercially serve providers and patients in more than 20 states coast to coast.