Cardiac patients too sick for open-heart surgery will no longer have to leave Northwest Arkansas for a lifesaving treatment known as transcatheter aortic valve replacement, sometimes referred to by the acronym TAVR.
During the procedure, a team of cardiologists and cardiothoracic surgeons goes through an artery in the thigh to reach and replace a patient's diseased heart valve. Similar to the placement of a coronary stent, the minimally invasive treatment can be done while the patient is under minor sedation.
Patients' hospital stay is limited to a few days and most feel better immediately.
 "There were patients who once were doomed to be inoperable and there was no other hope for them. It was almost equal to terminal cancer," said Dr. Amr El-Shafei, an interventional cardiologist with Mercy. "This procedure allows those patients to survive and thrive. They will see an improvement in their quality of life right away."
In addition to Dr. El-Shafei, Mercy's TAVR team includes interventional cardiologist Dr. Lance Weathers and two cardiothoracic surgeons, Dr. Matthew Parmley and Dr. Anton Cherney.
The FDA approved transcatheter aortic valve replacement in 2011 to treat aortic stenosis, a condition in which the heart valve narrows, reducing blood flow from the heart into the main artery. The heart must overwork, limiting the blood it can pump and causing symptoms such as chest pain, fatigue and shortness of breath.
Patients with these types of symptoms are referred to Mercy's Heart and Vascular Center, where cardiologists and CV surgeons can evaluate the best treatment and whether patients are good candidates for TAVR. TAVR patients are generally older, and it's not unusual for patients in their 80s and even 90s to benefit from the procedure. Often they have other health problems, such as kidney or lung issues, that make open heart surgery impossible.
While TAVR was once reserved only for high-risk patients, the FDA more recently approved its use for intermediate-risk patients, as well. At least two doctors must agree that a patient is a good candidate for TAVR, although at Mercy, all four may weigh in and offer different viewpoints.
 "Our collaboration continues throughout, from the initial evaluation of the patient, through the procedure, all the way up to when we follow up with the patients and they are safe at home," Dr. El-Shafei said.
Although the TAVR procedure is new to Northwest Arkansas, all of the TAVR team physicians have prior experience performing TAVR.
 "This is a procedure that's been very well studied and very well proven to benefit patients," said Dr. Cherney. "It hasn't been around for nearly as long as open-heart surgery but there have been multiple trials showing its tremendous benefit to patients. There's plenty of data to support this procedure. "
In preparing for transcatheter aortic valve replacement, Mercy invested in building a hybrid catheterization lab/operating room that combines state of the art imaging equipment and meets sterile requirements and equipment for surgeries. The hybrid room can be used for different types of interventions and surgeries.
The new lab is important to Mercy's establishment of a structural heart program addressing both congenital heart defects and diseases of the heart's structures.
"This is really the first step to setting us apart as a leader in cardiovascular care in Northwest Arkansas," Dr. Parmley said. "I'm excited because it opens up a whole new group of patients who we can treat more quickly and with a much shorter recovery period. There's no need to leave Northwest Arkansas for your heart and vascular care. We can take care of you right here."
Mercy's Heart and Vascular Center is accredited as a Chest Pain Center by the Society of Chest Pain Centers, a designation held by only 10 percent of hospitals nationally that are Mercy's size. This means patients with chest pain due to heart disease receive rapid care.
The center also is certified as a SHAPE (Society of Heart Attack Prevention and Eradication) Center of Excellence. It is accredited by the Intersocietal Commission of Vascular Laboratories.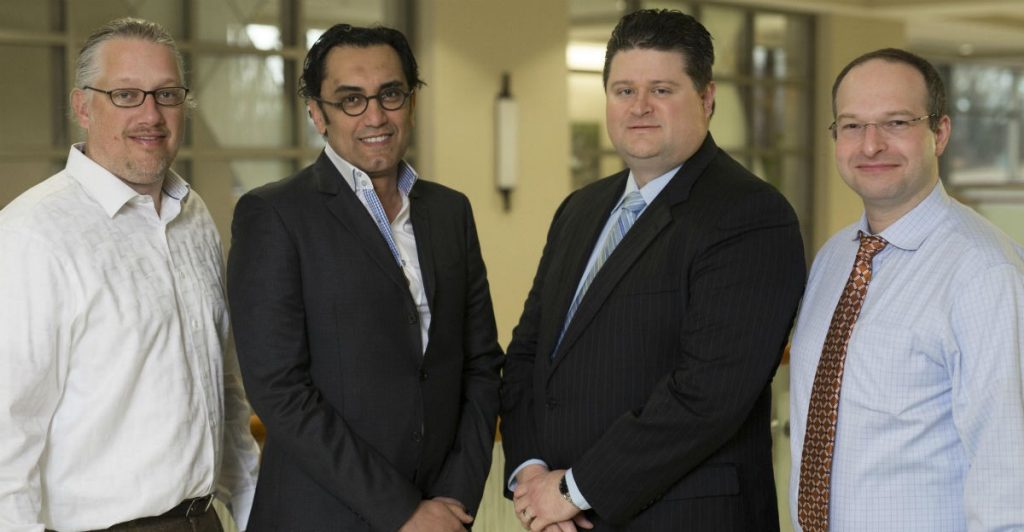 (Left to right) Cardiologists Lance Weathers and Amr El-Shafei and cardiothoracic surgeons Matthew Parmley and Anton Cherney make up the team performing transcatheter aortic valve replacement, known as TAVR, at Mercy Hospital Northwest Arkansas.
Contacts