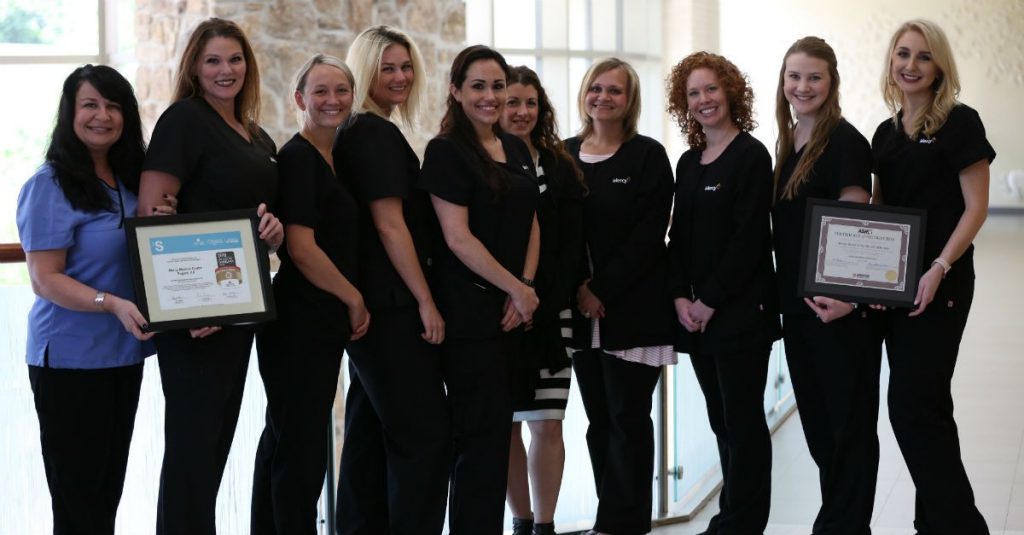 Members of the Mercy Hospital Northwest Arkansas Stroke Team
Mercy Hospital Northwest Arkansas earned a Gold Plus award from the American Heart Association and the American Stroke Association, recognizing two consecutive years of adherence to evidence-based treatment guidelines for stroke.
The award acknowledges Mercy's continued success using the "Get With The Guidelines-Stroke" program administered by the associations.
"It takes a village to insure that our patients are receiving excellence in stroke care," said Mary Tabor, Mercy's stroke team coordinator, acknowledging co-workers in the emergency department, stroke unit and intensive care unit's contributions to earning the award.
Hospitals earn Gold Plus by meeting specific quality achievement measures for the diagnosis and treatment of stroke patients. These measures include evaluation of the proper use of medications and other stroke treatments, in addition to using the most up-to-date, evidence-based guidelines with the goal of speeding recovery and reducing death and disability for stroke patients. 
In addition, Mercy Hospital Northwest Arkansas received the associations' Target: Stroke Honor Roll award. To quality for this, hospitals must meet quality measures to reduce the time between a patient's arrival and treatment with the clot-buster tissue plasminogen activator, or tPA, which is used to treat ischemic stroke.
"We couldn't be more proud of the team responsible for this award for its dedication to giving our stroke patients fast, accurate diagnosis and treatment," said Eric Pianalto, president of Mercy Hospital Northwest Arkansas. "Successful stroke treatment makes such a difference in the lives of our patients and their families."
According to the American Heart Association and the American Stroke Association, stroke is the No. 5 cause of death and a leading cause of adult disability in the U.S. Nearly 795,000 people suffer a new or recurrent stroke each year.
About Mercy
Mercy, named one of the top five large U.S. health systems in 2018, 2017 and 2016 by IBM Watson Health, serves millions annually. Mercy includes more than 40 acute care and specialty (heart, children's, orthopedic and rehab) hospitals, 800 physician practices and outpatient facilities, 44,000 co-workers and 2,100 Mercy Clinic physicians in Arkansas, Kansas, Missouri and Oklahoma. Mercy also has clinics, outpatient services and outreach ministries in Arkansas, Louisiana, Mississippi and Texas. In addition, Mercy's IT division, Mercy Technology Services, supply chain organization, ROi, and Mercy Virtual commercially serve providers and patients in more than 20 states coast to coast.
About Get With The Guidelines®
Get With The Guidelines® is the American Heart Association/American Stroke Association's hospital-based quality improvement program that provides hospitals with tools and resources to increase adherence to the latest research-based guidelines. Developed with the goal of saving lives and hastening recovery, Get With The Guidelines has touched the lives of more than 6 million patients since 2001. For more information, visit heart.org.
Contacts