July 17, 2018
By Mercy's Todd Nighswonger
For three decades, Mercy has supported communities by giving more than $15 million in grants to organizations that serve children, elderly, homeless and uninsured people.
That giving continues for the 30th year as 27 Mercy grants totaling $500,000 have been awarded to organizations across seven states. The funds will provide medical care, counseling, housing, meals and more.
Of the 27 grants, 19 are Mercy Caritas (Latin for "charity") grants that support community-based programs consistent with Mercy's mission and vision, as well as align with an identified community health need. The remaining eight grants fund programs supported by the Sisters of Mercy.
"As the Sisters of Mercy, we continue an almost 200-year-old mission of responding to the needs in our communities," said Sister Mary Roch Rocklage, Mercy's health ministry liaison and board member. "It is our privilege and responsibility to find ways to support those in need. These grants support programs that are vital to individuals and families in the communities we serve."
Here's a list of recipient organizations:
Arkansas
Hamilton House Child and Family Safety Center (Fort Smith) – Provides services to abused and neglected children, especially those in foster care, and is designed to restore their dignity and improve their well-being.
*Sisters of Mercy Reading Program (Fort Smith) – Teaches reading to Hispanic children whose parents don't speak, understand or write English.
Cooper-Anthony Mercy Child Advocacy Center (Hot Springs) – Provides no-cost sexual assault medical exams and counseling services to victims in western Arkansas in suspected cases of physical, emotional or sexual child abuse/neglect, while also providing child interview, advocacy and training in a child-friendly environment.
Saving Grace of NWA (Rogers) – Offers hope and transformation to women ages 18 to 25 who have aged out of foster care or who are facing homelessness, by equipping them with skills and resources that empower generational change.
List continues below the photo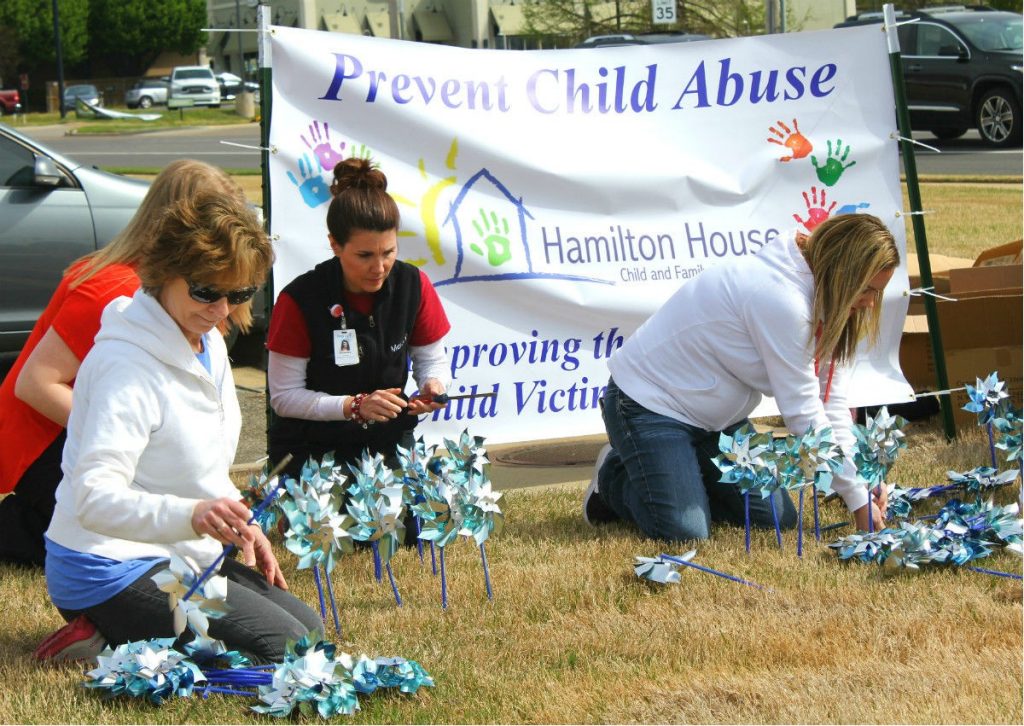 Mercy co-workers and Hamilton House volunteers in Fort Smith, Arkansas, place pinwheels in April 2018 during National Child Abuse Prevention Month.
Kansas
*Home Sweet Home Ministries (Independence) – Helps homeless men and families restore their lives with temporary housing, food, clothing, life skills training, medical and mental health support, job training, mentoring and spiritual support.
Louisiana
Mercy Family Center (Metairie) – Develops, pilots and implements Spanish-language training, consultation and tools to enhance resiliency and address psychological trauma for use by nonprofit organizations that support the well-being of economically disadvantaged and underserved Hispanic immigrant communities.
*St. Alphonsus School (New Orleans) – Provides funds for an active learning program that encourages healthy eating and helps avoid obesity in youth.
Mississippi
*St. Vincent de Paul (Biloxi) – Offers direct service to the poor in the post-hurricane Gulf Coast.
Missouri
Community Clinic of Southwest Missouri (Joplin) – Integrates mental health counseling into chronic disease management to help patients better manage depression, stress and anxiety.
LifeChoices Health Network (Joplin) – Provides free medical services, such as early pregnancy detection and prenatal services, to individuals facing a sexual health concern, such as an unplanned pregnancy, through three medical clinics and a mobile medical unit.
*St. Peter the Apostle Outreach House (Joplin) – Serves the homeless in poor neighborhoods and people on fixed or no income.
Watered Gardens' Forge Center for Virtue and Work (Joplin) – Offers physical wellness, spiritual development, education and work readiness as part of a year-long intensive program for those trapped in cycles of homelessness, incarceration or addiction.
Betty and Bobby Allison Ozarks Counseling Center (Springfield) – Provides a psychotherapist and a peer support specialist onsite at the Missouri State University Care Clinic for a warm handoff from primary care providers.
Community Partnership of the Ozarks' One Door Healthcare for the Homeless (Springfield) – Helps with immediate housing and basic health care needs for the most vulnerable homeless at the Springfield Affordable Housing Center and at HOPE Connection.
*Mercy Professional Services (St. Louis) – Provides counseling for persons who lack the ability to pay for medical care and partners with local agencies to provide on-site psychotherapy and crisis counseling.
NAMI (National Alliance on Mental Illness) St. Louis (St. Louis) – Provides education and support to families after a suicide-attempt discharge and, in addition, funds suicide prevention education and support groups at Mercy Hospital St. Louis, Mercy Hospital Jefferson and St. Anthony's.
*St. Augustine Wellston Center (St. Louis) – Provides senior citizens and families with much-needed healthy food on a monthly basis and offers consultation on nutrition and health services.
St. Louis Integrated Health Network (St. Louis) – Uses trained community referral coordinators to connect patients in emergency departments and/or inpatient units with primary care for follow-up and preventative care, particularly for uninsured and underinsured patients.
Lincoln County (Health Department) Community Care Connection (Troy) – Connects individuals who don't have a primary care provider and who use Mercy Hospital Lincoln's Emergency Room/Urgent Care with a community health worker who can provide access, as well as other social, community resources and health literacy support.
Foundations for Franklin County's Community Resource Action Network (Union) – Creates a system of care that focuses on access, communication and accountability for the county's families, individuals and children in crisis.
List continues below the photo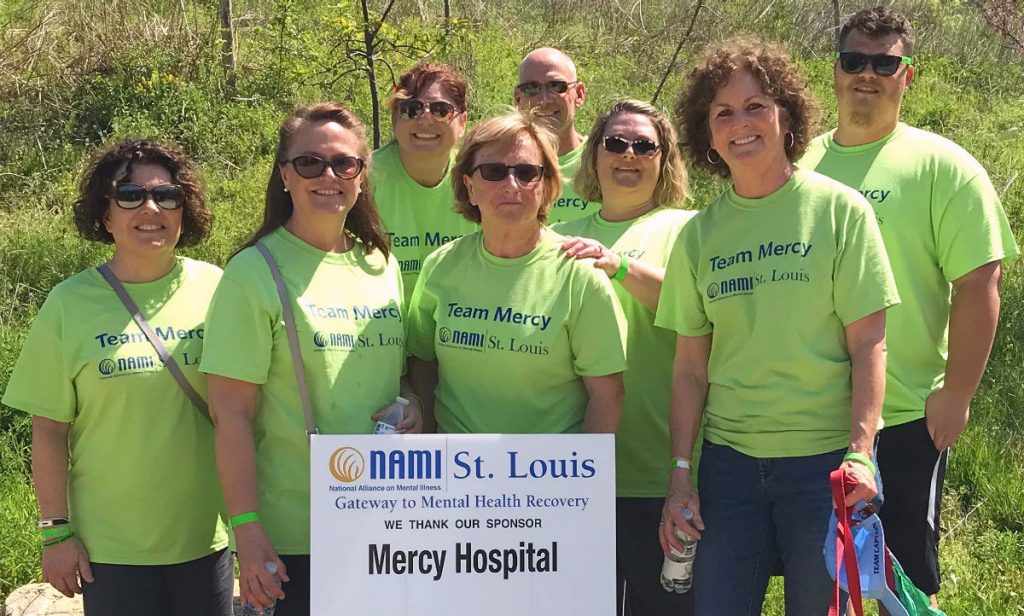 Mercy St. Louis co-workers participate in the NAMI Walk in May 2018.
Oklahoma
Grace Center of Southern Oklahoma (Ardmore) – Prevents homelessness and increases self-sufficiency for all people by providing education and resource assistance in a culturally sensitive, encouraging and Christ-centered environment.
El Reno Blessing Baskets (El Reno) – Serves families who experience food insecurity and are challenged to secure basic living supplies.
Linwood Elementary School (Oklahoma City) – Provides an action-based learning lab where students can practice academic concepts while improving their physical fitness.
Johnston County Kids (Tishomingo) – Improves the health and wellness of elementary children by providing healthy supplemental food for weekend backpacks, food for school pantries, educational programs on nutrition and personal hygiene, schools supplies and support for after-school programs.
Texas
*ARISE (A Resource in Serving Equality) (Alamo) – Helps immigrants who have experienced repetitive trauma by teaching skills necessary for resilience and coping mechanisms needed to reduce/prevent risky behavior due to stress or trauma.
Casa de Misericordia Youth Project (Laredo) – Provides intervention, advocacy and support services to youth who have experienced domestic violence or teen dating violence and educates middle and high school students on dating violence prevention.
Mercy Ministries of Laredo (Laredo) – Arranges procedures, negotiates prices and provides financial compensation for treatments that are out of financial reach for patients at Mercy Clinic.
*Sisters of Mercy grant
Media Contacts