Mercy Hospital Joplin partners with Joplin Area Catholic Schools (JACS) to implement a new biomedical science program for McAuley Catholic High School students. This partnership gives students hands-on experience in the classroom and access to shadowing opportunities through Mercy.
"With the continued emphasis in science, technology, engineering, and mathematics (STEM), we knew that our students needed to continue to excel in the sciences," said Tracey Welch, St. Peter's Catholic Middle School and McAuley Catholic High School principal. "We believe Project Lead the Way (PLTW) is the best opportunity for our students to increase and enhance their knowledge in science and in the biomedical field."
Science teacher Alicia Abruzzo was selected to undergo training and become the first teacher at McAuley to teach under PLTW as the first classes begin this fall.
"The program is set up in a refreshing way to make learning meaningful for students," said Abruzzo. "This allows learning to be relevant, interesting and fun to the student."
During the school year, students spend classroom time doing hands-on activities and labs such as examining past medical history documents and autopsy reports to solve a fictional crime scene. The activities and projects introduce students to human physiology, basic biology, medicine, and research processes while allowing students to design their own experiments to solve problems.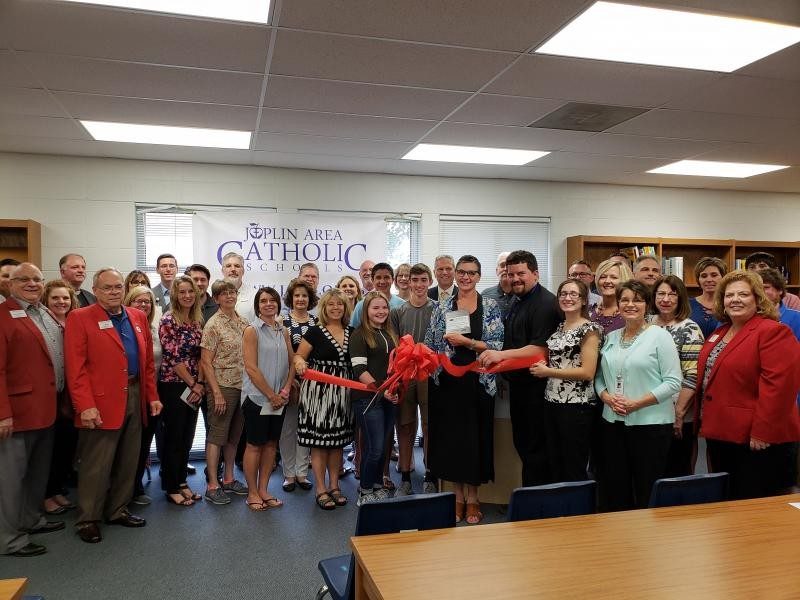 Mercy Hospital Joplin leaders and Joplin Area Catholic School administrators kick off the Project Lead the Way biomedical sciences program with a ribbon cutting.
With the continued need for dedicated and passionate health care professionals, Mercy is excited about the opportunity to expose students to health care careers and mentorship by funding the PLTW biomedical sciences program.
President of Mercy Hospital Joplin, Gary Pulsipher, said of the partnership, "Mercy Joplin is proud of the work that the Joplin Area Catholic Schools undertake. The system's innovative and forward-thinking efforts, as well as the work done with students at all levels, makes our partnership so rewarding."
The beliefs and values taught and practiced by McAuley Catholic High School align with Mercy's mission to further the healing ministry of Jesus Christ. Both Mercy and McAuley, as well as the entire JACS system, draw strength from the example of Catherine McAuley, Mercy's founder and the first Sister of Mercy, who dedicated her life to caring for others. 
"We wanted to find a way to partner with Mercy to continue the mission that the Sisters of Mercy began in Joplin many years ago." Welch said, "We're pleased to have the opportunity to partner with PLTW and Mercy Hospital to further our mission in Joplin."
In addition to the biomedical science program, PLTW offers a variety of course offerings that appeal to more than high school level students. Though this is the beginning of a partnership between Mercy and the Joplin Area Catholic Schools, the hope is that the program expands to younger students in other grades.
"With Gary Pulsipher and his dedicated team, we couldn't be more blessed with this partnership for our students," said Georgiana L. McGriff, JACS Director. "We are excited to see how this program evolves!"
Enrollment for the program is still open to McAuley Catholic High School students, which accepts individuals from all faith backgrounds.