Jessica Kassel vividly remembers the day her 2-year-old daughter Sophie was diagnosed with type 1 diabetes in 2011. The life-altering diagnosis brought its share of worry and stress, but she immersed herself in learning more and now has dedicated herself to teaching others.
"When we came home from the hospital, I thought, 'I don't know how we are going to do this,'" Jessica said. "The thought of all the meal planning and the management of insulin doses was overwhelming."
She reached out to the JDRF for resources and assistance, and spent the next five years building what she and her husband, Jerry, like to call Team Kassel, a strong group of friends and family who helped them navigate those early years.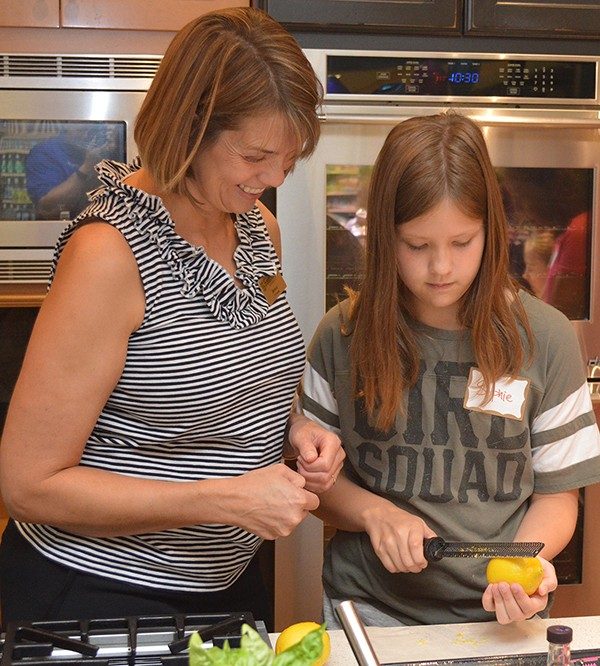 Jessica Kassel watches closely as her daughter Sophie zests a lemon during their Kids in the Kitchen class specifically for parents and children living with Type 1 Diabetes.
Eventually, Jessica found herself wanting to do more. A University of Missouri Journalism School graduate, she decided to go back to school to become a registered dietitian nutritionist. As part of her education, she has been working part-time this summer at Mercy Hospital Jefferson as a nutrition assistant, going over menu selections with patients when they place their meal orders.
"With all of the new knowledge and understanding about diabetes, in the spring of 2017, I took two classes to see if it was what I wanted to do," Jessica said. Now she is just a few semesters and an internship away from her degree in dietetics from Fontbonne University.
Inspired by her return to school, she realized it was time to bring an idea to fruition. As a parent, she knew hands-on cooking classes could help families living with type 1 diabetes by introducing cooking skills and nutritional concepts in a relaxed, fun environment. She reached out to Dierbergs Markets in St. Louis, and was given the opportunity to lead a class in August 2017. Additional classes were scheduled after the success of the first class.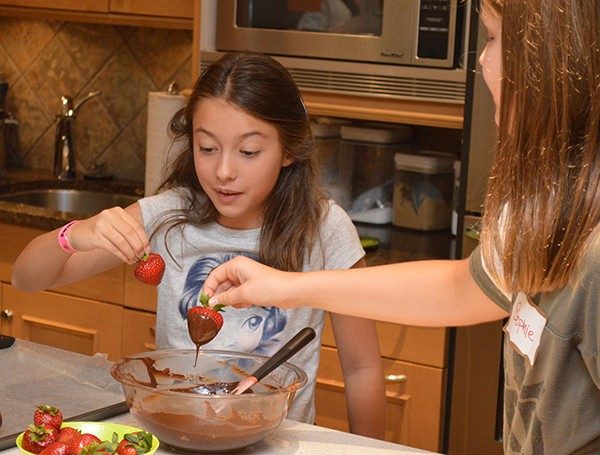 Madeline Batz and Sophie Kassel had the fun job of dipping the chocolate-covered strawberries.
"Dierbergs has been fabulous to work with, and the JDRF helped me find families for the first class because it was held as a private event. Since then, with a little advertising, the classes have filled up without any additional effort on my part. People are looking for the classes," Jessica said. "All of the classes have turned into a kind of a support group. And, because the majority of the classes have been gluten free, families who have both type 1 diabetes and celiac disease or just celiac disease will attend."
It turns out that cooking for a child with diabetes is the easy part, she said.
"We really focus on the mental part. When we do well mentally, it pulls us along physically," Jessica said. "If you can cook at home, you can make meals that fit dietary guidelines. It's not hard. You can do it. These classes are geared for reducing families' stress levels about food preparation. We are there to have fun and to learn from each other."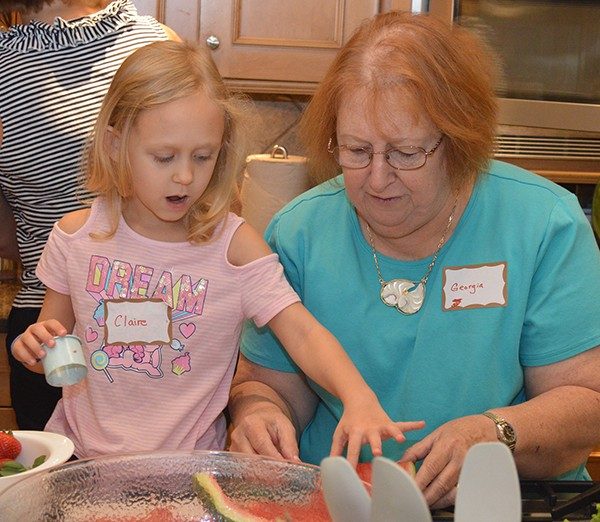 Claire Fyalka and Georgia Druen cut water melon wheels for the Frisbee fruit toss salad.
The cooking classes also incorporate additional resources for the families.
"Part of my idea was to get health care professionals involved, anyone with ties to the diabetes community," Jessica said. With the help of the JDRF, she found nurse practitioner Anna Schell and diabetes educator Paige Berra at Mercy St. Louis, and dietitian Jackee Bauch from Mercy Jefferson. The volunteer team of pros has answered questions during the classes. The relaxed atmosphere makes it easy for parents to talk to the health professionals.
With her Mercy volunteers, Paige Berra, Jackee Bauch, and Sharla Fisher, Jessica and Sophie, who is in the fifth grade now, offered a Summer Picnic in the Park class at Dierbergs Southroads on July 19. The menu for the sold-out class included: veggie kabobs and ranch dip, chicken salad picnic-wiches, Frisbee fruit toss, gluten-free luscious lemon cupcakes, and chocolate-dipped strawberries.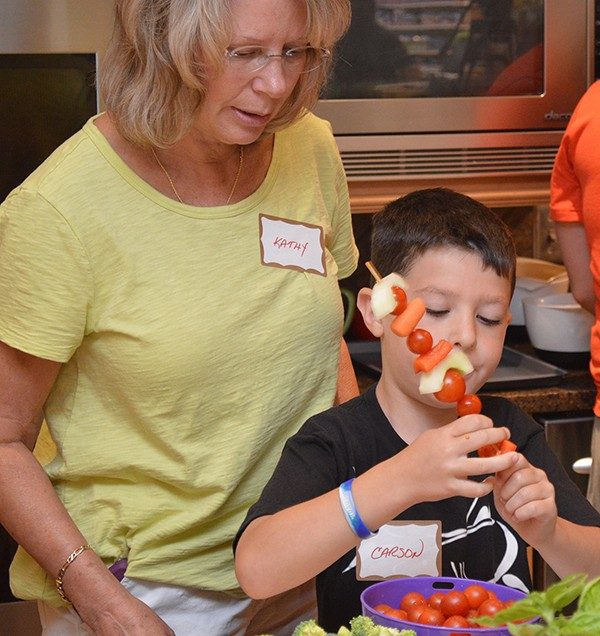 Kathy Stebe watches as Carson Weiss assembles a veggie kabob.
Teaching the cooking school classes is just the beginning of her involvement. She has worked with an area food pantry to bring resources together for the community, and Jessica is the volunteer student representative-elect on the Accreditation Council for Education in Nutrition and Dietetics, and is a member of the Academy of Nutrition and Dietetics Student Advisory Committee.
For more information on the Dierbergs School of Cooking classes, call the Southroads Store on Tesson Ferry Road at 314-849-3698.