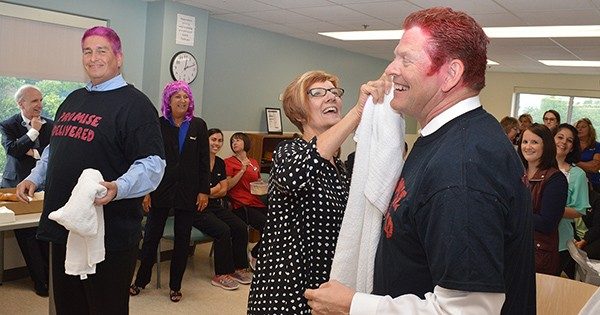 Mercy Jefferson President Eric Ammons gets a bit of touch-up from his wife Chris while Therapy Services Director Eric Baldonado watches with a smile.
When the Acute Rehabilitation Unit at Mercy Jefferson reached 50 days without a patient fall, President Eric Ammons wagered they couldn't duplicate the streak. He promised that if they made it to 100 days, he would allow the team to color his hair.
"I have to admit when you reached 50 days without a fall, I really didn't think you could get to 100 days in a row. This just proves, when we put our minds to something, we can accomplish a lot," Eric said. "I am so proud of you for proving me wrong, and I am going to be more careful in the future about the bets I make."
But it didn't take long for him to up the ante.
"So, here's the deal. I've challenged our senior leadership team. If you make it to 200 days, they will all get their hair dyed together, so let's continue this same focus on no falls," Eric said. "What you've done is that you have us all really excited about it. I won't ever doubt you ever again."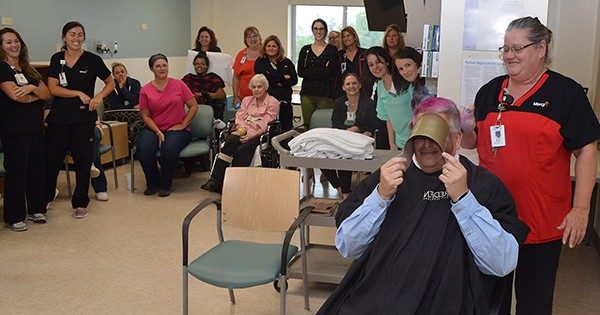 Therapy Services Director Eric Baldonado gets his hair colored bright pink by nurse Karen Brewer.
With a crowd of co-workers, leaders and even a few patients watching closely, nurse Karen Brewer, RN, did the honors with some spray-on hair color. While Eric Ammons had his hair dyed a shade the team called "Ronald McDonald Red," Eric Baldonado, director of therapy services, had his crew cut colored bright pink.  
Patients in the acute rehab unit are usually on extended stays, recovering from surgeries, strokes and other challenges. The focus on patient safety in this vulnerable group reflects the work of a dedicated team.
"Everyone on the fifth floor has embraced the challenge. Not just the staff, but our patients too," Eric Baldonado said. "The therapists, nurses, assistants and physicians are all committed to keeping the streak alive. Of course, I think 200 days is doable. I set the goal at the year 2020."
Fortunately for Eric and Eric, the hair color won't last quite that long. Click here for more photos from the event.