As avid Cardinals fans, Steve and Kimberly Gimlin had a wonderful wedding planned at home plate during a Springfield Cardinals' game.
"They were having a promotion to get married at home plate with dancing and fireworks after the game, so we thought, why not?"
But just ten days before the wedding, Steve had a stroke in the early morning hours and was admitted to Mercy Hospital Springfield. Three days later, he headed to Mercy Rehabilitation Hospital Springfield, determined to get better, but not sure if he'd be ready for the wedding in just one week.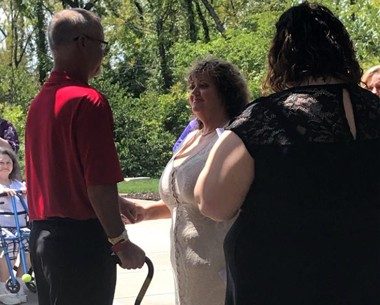 After some discussion with his providers about what was best for him during that point in his recovery, everyone agreed that continuing with the original plans wouldn't be in his best interest. Rather than let that derail and cancel their wedding plans, the Gimlins just re-worked things a bit.
"The Clinical Liaison, Chaz Zumwalt, who I worked with to get transferred over here was a big help," Steve said. "We talked things through about the likelihood of me being able to get a pass to attend my own wedding at the Cardinals game. When it looked like that wasn't going to be an option, she said 'why don't you just get married at rehab – you'd be the first one to ever do that!' I asked her about getting married in my room and she said, 'Don't be silly! We have a beautiful chapel or many other areas that could work.'" With Chaz's great ideas, family heading to town and a marriage license that was soon to expire, the couple decided they would keep the date and make it happen. 
The day before the big event, the team took Steve outside for a trial run. He wanted to be able to walk the whole distance without a device, but a slight incline was giving him trouble.  "My PTA, Lizzy (Ashley), said to me 'do you want to walk to a certain point and grab the cane for the incline, or do you want to walk the entire way and fall?' So I gave into having a cane for the last few feet."
On Aug. 17, ten days after Steve's stroke, the couple took advantage of a beautiful day and got married outdoors on the therapy courtyard, under the gazebo, with a host of onlookers ranging from family and friends, other patients currently at the rehab hospital and a slew of rehab staff. One of the best parts was that Steve was able to walk down the aisle under his own power.
 "I really have to give just so much credit to my therapy team here," Steve said. "Karen (Ward), my PT, and Amy (Sullens), my OT, just really focused and worked with me all week on walking that specified distance, being able to stand for the entire ceremony, working on my arm strength to be able to hold up my hand to place the ring, working on my balance without a device – they even put bands on my bed so I could work on my arm strength while I wasn't in therapy and gave me exercises to do on my own as well."
Along with that high praise, Steve also commended his Physical Medicine and Rehab doctor, Ronald Pak. "He listens – I mean, really listens to me," Steve said. "I had been having issues with some ear and face pain and he worked and worked on it, even when pain medicine wasn't working, to figure out the true problem. He started me on a new nerve medicine today, and I already feel 100 percent better. "
As for what's next for the happy couple, Steve will complete outpatient therapy at Ozarks Neuro Rehab three days a week and then hopes to return to work. He builds engines for Case CNH Industrial, part of the SRC family, where he has been for 29 years. The Gimlins have seven kids between them from previous marriages, as well as six grandchildren. We wish Steve and Kim the absolute best of luck and are thrilled and honored to have been a part of their special day!
More Information