September 24, 2018
SOUTH ST. LOUIS COUNTY, Mo. – St. Anthony's Medical Center, to be called Mercy Hospital South starting Oct. 1, is celebrating the groundbreaking of its new cancer center by announcing the center will be named in honor of David M. Sindelar.
Rendering of the David M. Sindelar Cancer Center.
Mr. Sindelar was born and raised in south St. Louis County. As a youth, he would ride his bicycle around the site that would later become St. Anthony's Medical Center. In the decades following his graduations from Lindbergh High School and Saint Louis University, he ran several successful businesses. He officially became part of St. Anthony's leadership team when he joined its board of directors in 2002. He was elected board chairman in 2010 and was named CEO in 2015. Mr. Sindelar recognized a partnership with Mercy and its shared mission, values and cultures was the right path for St. Anthony's to extend and improve its commitment to south St. Louis County. Under his leadership, St. Anthony's and Mercy announced in February 2017 that an affiliation agreement had been reached. Mr. Sindelar passed away the following month from cancer at the age of 59.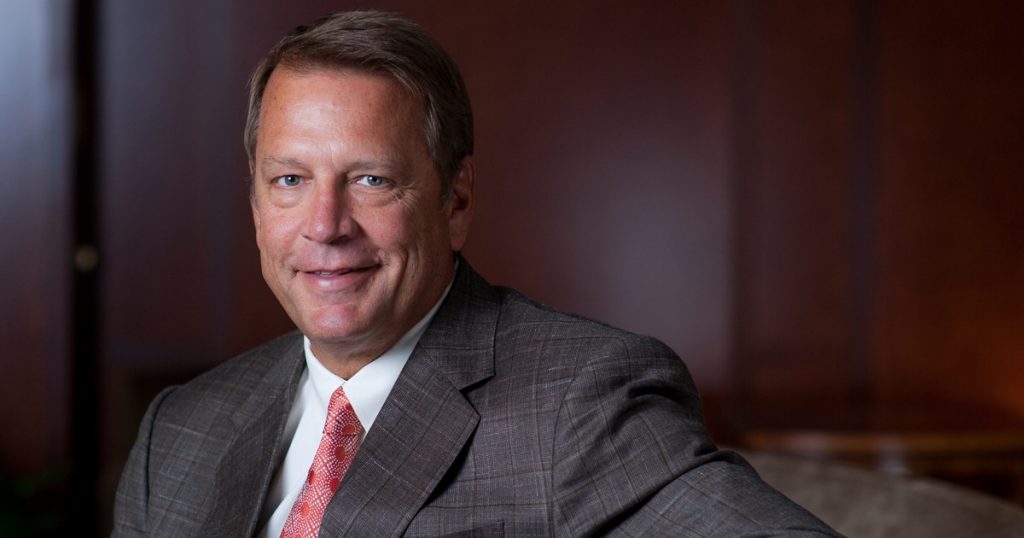 David M. Sindelar
"Naming our new cancer center for Dave is more than just a way to honor him and his leadership," said Win Reed, St. Anthony's (Mercy Hospital South) Chairman of the Board. "It also reflects our commitment to care for our community because no one cared more for south county than Dave did."
The David M. Sindelar Cancer Center will be a stand-alone comprehensive cancer care facility on the Mercy Hospital South campus. The two-story, 70,000-square foot building will provide patients one location for diagnosis and treatment of all cancers, including enhanced technological capabilities along with access to oncology and surgical specialists. The facility also will include a new breast center.
"Our partnership with Mercy is about providing the care our community needs and deserves," said Sean Hogan, President of St. Anthony's (Mercy Hospital South). "One of the requests we heard from our community was to fill the need for improved, comprehensive cancer care. We are thrilled to be able to answer that call with this facility."
Construction of the David M. Sindelar Cancer Center is expected to be completed in early 2020.
Media Contacts
Joe Poelker
St. Louis - South, Festus