ST. LOUIS  - Mercy was recognized with the Missouri Hospital Association's Aim for Excellence Award for delivery of improved population health, patient outcomes and experience, and value of care. The award recognizes progress toward the Triple Aim — better health, improved care and lower cost.
"The Aim for Excellence Award embodies Missouri hospitals' commitment to improving care through the Triple Aim," said Herb B. Kuhn, MHA President and CEO. "This year's award recipients reflect the diverse approaches being taken to create a more effective health delivery system."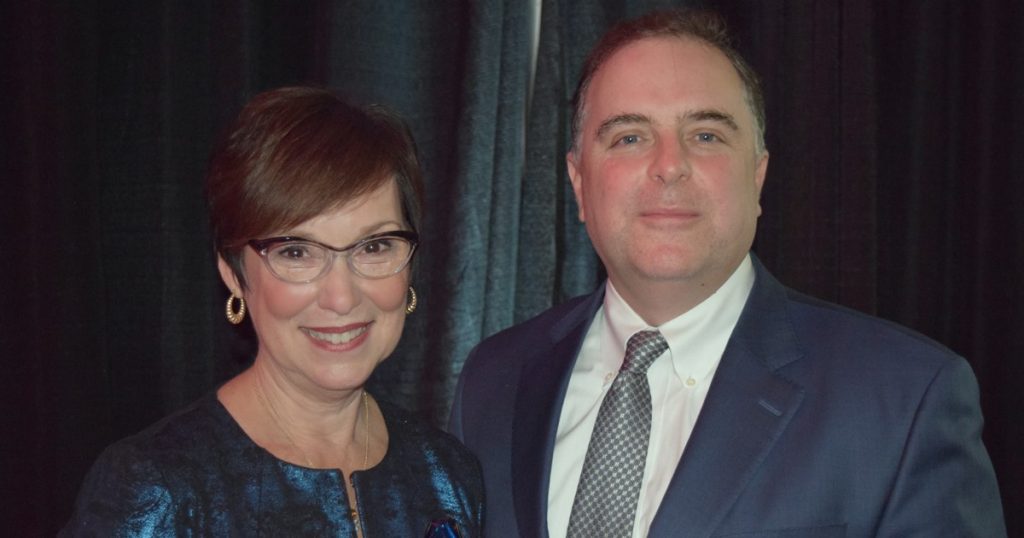 Fran Hixson, director of Clinical Quality, and Peter Brawer, Ph.D., vice president of Clinical Quality and Patient Safety for Mercy accept the Aim for Excellence Award.
Mercy was honored in the Clinical Excellence - Care Collaborative or Health System category for its work on reducing Clostridium difficile (C. diff) infections. 
Mercy identified hospital-onset C. diff as a problem across its multistate, multifacility health care system. Health system leaders recognized that C. diff infections had substantial negative effects on patients and health care costs. However, they believed these community- and hospital-acquired infections could be prevented through the alignment of the right people, processes and technologies.
To reduce risk and harm, the system identified patients with a high risk of C. diff and implemented hand and patient room cleaning protocols to reduce the infection within hospitals. The program led to a 66 percent decrease in C. diff, improving the lives of 488 at-risk patients and saving an estimated $11 million in harm-related care since its inception.