ST. LOUIS - The Midwest Association of Healthcare Volunteer Resource Professional honored the Clinical Mercy Service Volunteer program at Mercy Hospital St. Louis with the Award for Excellence. 
The Award for Excellence acknowledges the value of volunteerism to individual lives and institutions, while promoting visibility and good will toward a health care facility, recognizing leadership development and encouraging service that exceeds customer expectations.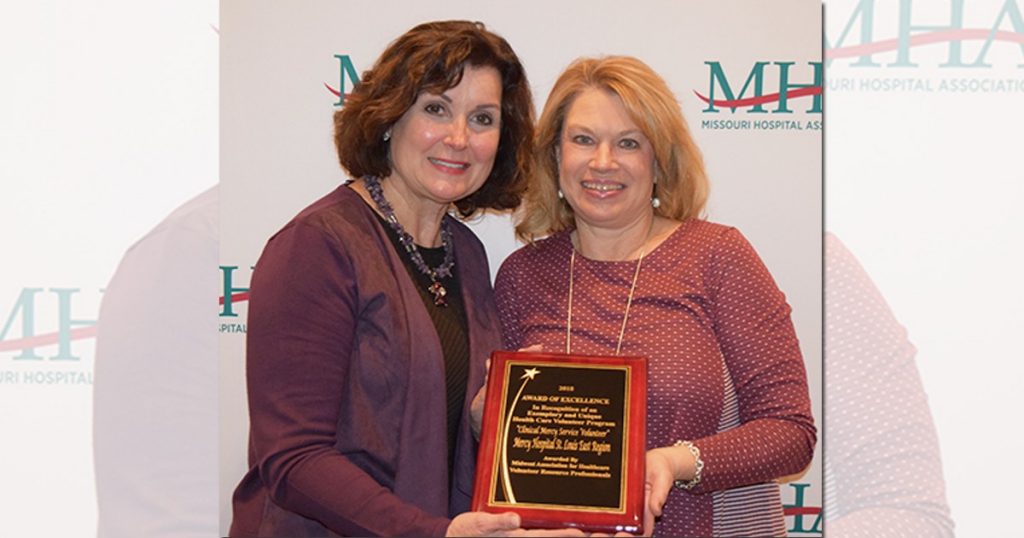 Candy Heidbreder, Volunteer R.N. Program Supervisor, left, and Shery McClary, Manager of Auxiliary and Volunteer Services and 2018 MAHVRP President, right.
The Clinical Mercy Service Volunteer program provides college students experience in a hospital environment while helping them meet volunteer hour requirements. The hospital's goal is to provide a second set of hands for patient care technicians and nurses, and to give possible future Mercy co-workers an opportunity to engage with the hospital. Each year, approximately 100 Clinical Mercy Service Volunteers are oriented and provide direct patient care under the supervision of staff in numerous hospital departments.