March of Dimes Missouri recently announced the winners of its annual Nurse of the Year awards and Mercy won big. With 98 Mercy finalists in 20 disciplines, there were seven category winners plus two Champions of Nursing. The awards honor those who provide an extraordinary level of patient care, compassion and customer service. Category winners include Shelia Purdy, Erin Hopkins, Tammy Rifenburg, Lisa Finley, Karen Prade, Bethany Westlake and Cheryl Wormington (italicized in categories below).
This year, two of our nurses were also named Champions of Nursing: Molly Lubiewski and Amy McLean.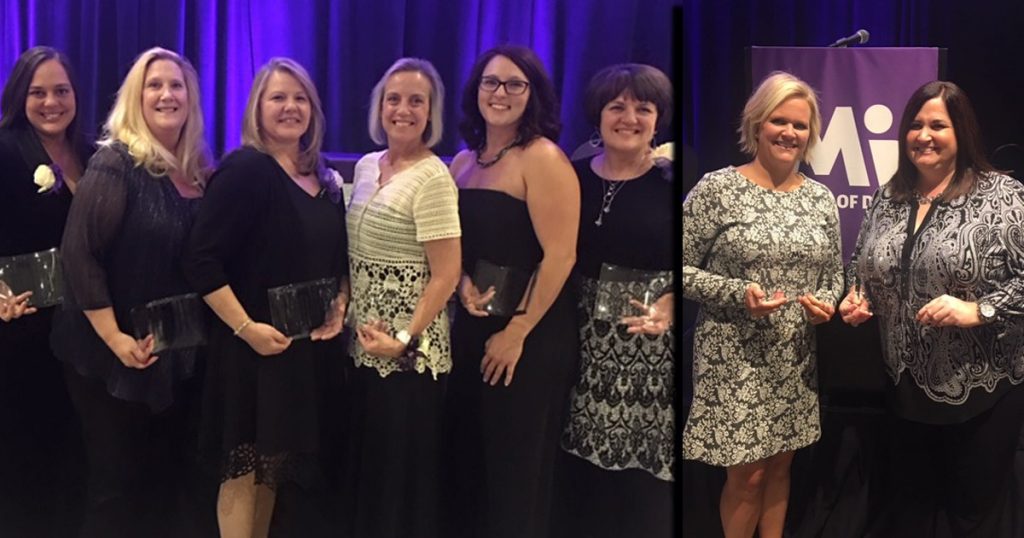 Category winners from left to right: Erin Hopkins, critical care; Karen Prade, NICU; Shelia Purdy, Community Skilled Nursing; Cheryl Wormington, Women's Health and Obstetrics; Bethany Westlake, Nursing Administration; and Lisa Finley, Infection Control and Quality. Not pictured: Tammy Rifenburg, Emergency Care. Champions of Nursing far right: Molly Lubiewski and Amy McLean.
Behavioral Health
Alexandria Brinker - Mercy Hospital St. Louis
Corey Weicht - Mercy Hospital St. Louis
Catherine Bollinger - Mercy Hospital South
Michelle Cooley Mercy Hospital Jefferson
Katrina Cordova - Mercy Hospital South
Kristin Eveland - Mercy Hospital South
Case Management
Mary Leona (Lee) Bannes - Mercy Hospital South
Lori McGee-Minnich - Mercy Hospital Jefferson
Brenda Pitonak - Mercy Hospital St. Louis
Fran Poglajen - Mercy Hospital St. Louis
DeAnna Rhine - Mercy Hospital Jefferson
Victoria Spurgeon - Mercy Hospital St. Louis
Charge Nurse and Frontline Supervisor
Tisa Ayers - Mercy Hospital Jefferson
Amy Clayton - Mercy Hospital St. Louis
Debbie Coleman - Mercy Hospital South
Jill Igou - Mercy Hospital St. Louis
Karen Korte - Mercy Hospital St. Louis
Teresa Rohde - Mercy Hospital Lincoln
Clinical Informatics
Elizabeth Bialczak - Mercy Hospital St. Louis
Kristin Glover - Mercy Hospital South
Community Skilled Nursing (Hospice, Home Health, Palliative Care, Long Term Care and Long Term Acute Care)
Gretchen Brune - Mercy Hospital St. Louis
Julie Bryan - Mercy Hospital Springfield
Victoria Korhammer - Mercy Hospital South 
Susana Madden - Mercy Hospital St. Louis
Shelia Purdy - Mercy Hospital St. Louis
Critical Care
Jennifer Bancroft - Mercy Hospital St. Louis
Lindsay Eleanor Bilhorn - Mercy Hospital St. Louis
Kelly Bishop - Mercy Hospital Jefferson
Zachary Fox - Mercy Hospital St. Louis
Erin Hopkins - Mercy Hospital St. Louis
Mahala Mastin - Mercy Hospital St. Louis
Bridget Stubbs - Mercy Hospital South
Education
Mary Lawrence - Mercy Hospital St. Louis
Katrina Rice - Mercy Hospital St. Louis
Kimberly Siemons - Mercy Hospital St. Louis
Emergency Care
Julie Heaney - Mercy Hospital St. Louis
Sarah Highfill - Mercy Hospital St. Louis 
Deborah Moore - Mercy Hospital St. Louis
Megan Otis - Mercy Hospital St. Louis
Tammy Rifenburg - Mercy Hospital Jefferson
Kayla Terschluse - Mercy Hospital Lincoln
Arika Wilga - Mercy Hospital St. Louis
General Medical / Adult Care
Anne Kerwin - Mercy Hospital St. Louis
Dana B Baldwin - Mercy Hospital Jefferson
Lisa Chavarria - Mercy Hospital Jefferson
Rosalie Harpole - Mercy Hospital Lincoln
Gwen Stein - Mercy Hospital St. Louis
Leta Woolard - Mercy Hospital Jefferson
Infection Control & Quality / Risk Management
Sean Balagna - Mercy Hospital St. Louis
Gil Diesel - Mercy Hospital St. Louis
Lisa Finley - Mercy Hospital St. Louis
Jennifer Jaffe - Mercy Hospital South
Alycia Miley - Mercy Hospital St. Louis
Victoria Moore - Mercy Hospital Jefferson
LPN
Jamie Powers - Mercy Hospital Jefferson
Amy Vinson - Mercy Hospital St. Louis
NICU / PICU
Michelle Allen - Mercy Hospital St. Louis
Katie Blaha - Mercy Hospital St. Louis
Courtney Kenkel - Mercy Hospital St. Louis
Susan Kirkman - Mercy Hospital St. Louis
Anna Miller - Mercy Hospital St. Louis
Karen Prade - Mercy Hospital St. Louis
Nursing Administration
Carol Ellis - Mercy Hospital South
Elizabeth Gillam - Mercy Hospital St. Louis
Teresa Pasley - Mercy Hospital Jefferson
Julie Scherder - Mercy Hospital St. Louis
Jennifer Schwartz - Mercy Hospital St. Louis
Ryan Michael Simms - Mercy Hospital St. Louis
Barbara Vancil - Mercy Hospital Jefferson
Bethany Westlake - Mercy Hospital St. Louis
Pediatrics
Kelsey Ahlheim - Mercy Hospital St. Louis
Allison Galiley - Mercy Hospital St. Louis
Research
Esmeralda Carrillo - Mercy Hospital Joplin
Pearlena Hamlet - Mercy Hospital Springfield
Linda Thompson - Mercy Hospital Springfield
Crystal Tindall - Mercy Hospital St. Louis
Rising Star
Kate Baldwin - Mercy Hospital St. Louis
Lauren Callow - Mercy Hospital South
Kristin Eveland - Mercy Hospital South 
Regina Oppelz - Mercy Hospital South
Alyssa Tromp - Mercy Hospital St. Louis
Student Nurse
Caroline Pate - Mercy Hospital St. Louis
Michelle Schaefer - Mercy Hospital St. Louis
Hannah Wessels - Mercy Hospital - Jefferson
Surgical Services
Mikayla Barlow - Mercy Hospital South
Cathleen Fenton - Mercy Hospital South
Mindy Mallinckrodt - Mercy Hospital Lincoln
Kimberly O'Dell - Mercy Hospital Jefferson
Lindsey O'Neal - Mercy Hospital St. Louis
Julie Willen - Mercy Hospital St. Louis
Women's Health & Obstetrics
Karen Blythe - Mercy Hospital St. Louis
Sarah Jasper - Mercy Hospital St. Louis
Kristine Morrell - Mercy Hospital St. Louis
Regina Ritter - Mercy Hospital St. Louis
Tabitha Short - Mercy Hospital St. Louis
Theresa Smith - Mercy Hospital St. Louis
Jaculin Wankum - Mercy Hospital St. Louis
Cheryl Wormington - Mercy Hospital St. Louis
Julie Long - Mercy Hospital South