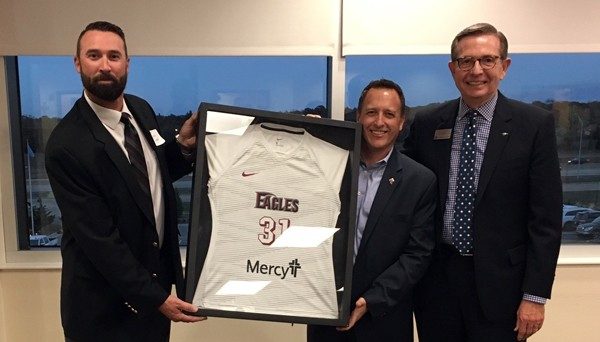 Mercy's Dr. Jesse Campbell (center) presents a framed jersey to OC Athletic Director David Lynn (left) and Vice President for Advancement Kent Allen (right).
Mercy Sports Medicine is privileged to announce it will now serve as the official medical provider to Oklahoma Christian Athletics. The partnership will be a collaborative effort between Mercy and Oklahoma Christian's training staff to serve the medical needs for the university's student athletes.
"Oklahoma Christian Athletics is excited to partner with Mercy to be our official medical provider," said David Lynn, athletic director for Oklahoma Christian. "We are blessed to have to opportunity to work closely with Mercy to help provide the best possible student athlete experience in NCAA Division II athletics."

Oklahoma Christian's athletic program now has 386 student-athletes spread across 16 varsity sports – baseball, softball, men's and women's cross country, golf, soccer, swimming, indoor track and field, basketball and outdoor track and field, as well as men's and women's club bowling.

"Our health system works a lot like a team for our patients," said Dr. Jesse Campbell, chief administrative officer for Mercy Clinic in Oklahoma. "Mercy's sports medicine physicians are an entire care team helping student athletes stay healthy, on the sidelines and excelling at the sport they love. We are proud to partner with Oklahoma Christian to bring this innovative model of care to their players."
Adapted from media release by: Murray Evans, Oklahoma Christian University