It's a short move, but a big one for the Mercy St. Francis Hospital Thrift Shop.
The store will close this Thursday, Friday and Saturday so members of the Mercy St. Francis Auxiliary can move the inventory to the new location, which is just two doors down from the current storefront. It's a big project that will give them a much bigger space to display some of the best buys around.
The thrift shop re-opens to the public at 9 a.m. on Monday, March 4, at 102 W. First St. Auxiliary members will be waiting for shoppers with cookies and coffee to celebrate the new, more organized space.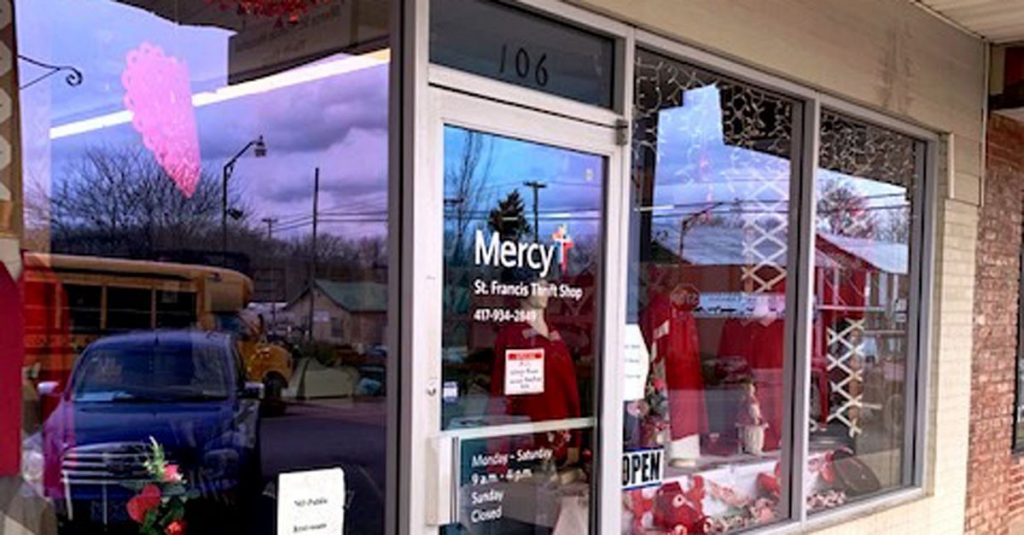 The Mercy St. Francis Hospital Thrift Shop reopens Monday, March 4 at 102 W. First St.
"The efforts of our auxiliary members always amaze me," said Karen Simpson-Neasby, executive director of Mercy Health Foundation – St. Francis. "During the last nine years, they've donated more than $300,000 to pay for items in our hospital that benefit the entire community. That includes funding for the cardiopulmonary rehabilitation unit, defibrillators, chapel renovations and their latest pledge to the radiology enhancement campaign."
While the auxilians host a variety of fundraisers and raise money through the hospital gift store, the thrift shop is a major source of income and requires help from the community in the form of donated goods. If you have items you'd like to donate, please call the Mercy St. Francis Hospital Thrift Shop at 417-934-2849.
Store hours will remain the same at the new location: Monday through Saturday, 9 a.m. to 4 p.m.