Whether it's a broken bone or a life-threatening diagnosis, you deserve the highest-quality health care. Ratings from the Centers for Medicare & Medicaid Services (CMS) show you'll get it at Mercy Hospital Springfield.
CMS has just released the latest hospital quality ratings on its Hospital Compare website. The ratings include more than 100 measures, divided into seven categories: mortality, safety of care, readmission, patient experience, effectiveness of care, timeliness of care and effective use of medical imaging. Ratings range from 1 to 5 stars, and Mercy Hospital Springfield has earned the top rating with 5 stars.
"This shows our patients that we're consistently providing them with the right care at the right time, without unnecessary testing," said Brent Hubbard, president and COO of Mercy Hospitals Springfield Communities. "Less than 7 percent of hospitals in the nation earn a 5-star rating, and it's acknowledgment from CMS that we are keeping our patients safe and providing them with truly effective healing."
In addition to quality and safety, Mercy Springfield has been working with CMS for more than a decade on providing value to patients and the Medicare program as well. Mercy volunteered for the Physician Group Practice Demonstration, a pilot project to see if it was possible to provide better care at a lower price. Mercy proved it was, through coordinating tests and focusing on screenings and immunizations to prevent bigger illnesses later. The pilot became today's Accountable Care Organization (ACO) model, and Mercy Springfield Communities' costs are 18 percent below the median per-beneficiary cost.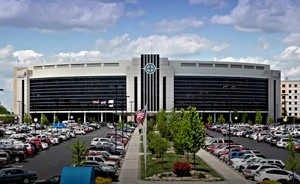 The new 5-star rating comes on the heels of The Leapfrog Group naming Mercy Hospital Springfield as a Top Hospital and awarding it an A grade for patient safety. Mercy was also honored in 2016, 2017 and 2018 as one of the Top 5 Large Health Systems by IBM Watson Health, which ranks hospitals based on quality and safety measures.
"There's something all these numbers can't show, and that's our co-workers' commitment to bringing to life the healing ministry of Jesus," Hubbard said. "It's our mission and what inspires us to continually look at ways to improve our care. We want our patients to feel physically and spiritually supported."
If you need a new primary care provider, check out mercy.net where you can see comments from other patients who have experienced that healing touch. In addition, many providers have videos that help you get to know them before your first visit.
"At Mercy, we want to be your provider of choice so we can keep your family healthy and our community strong," Hubbard said.