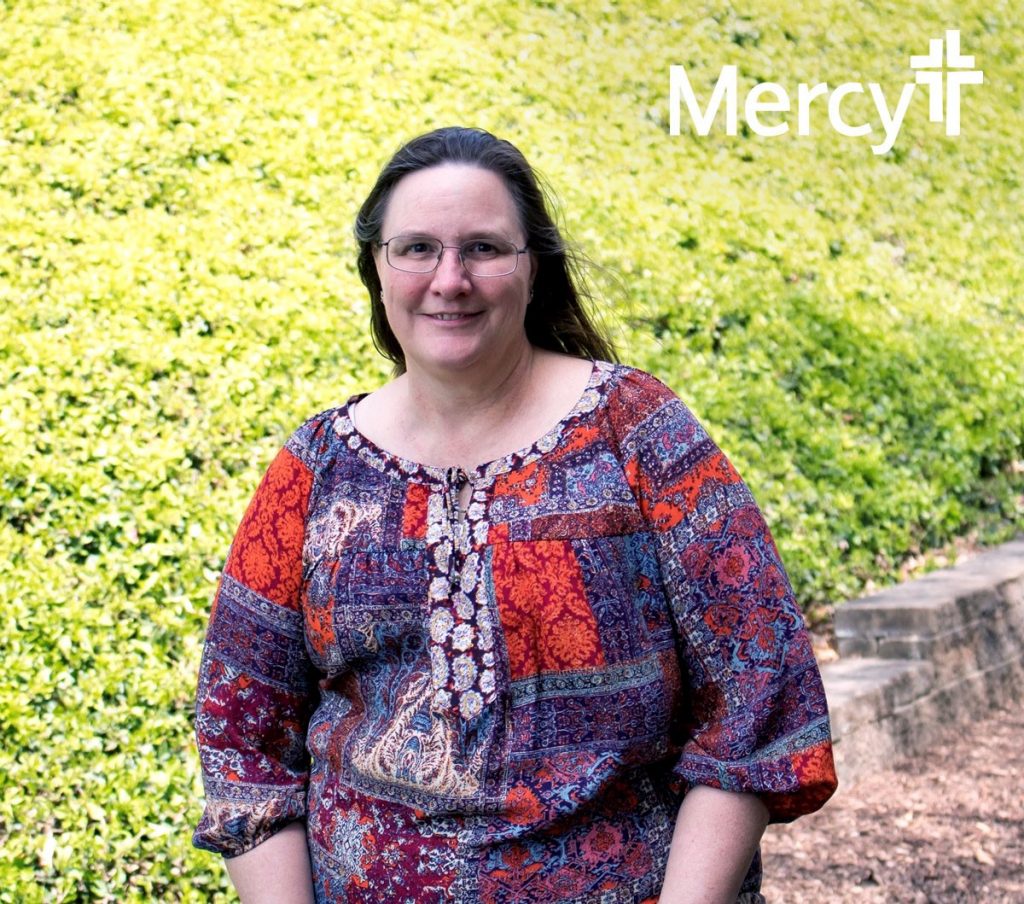 Survivor Marty Brooks
Less than a month after surgery to remove both breasts, Marty Brooks alternates between joking and speaking matter-of-factly about the journey she's been on since a diagnosis of breast cancer in January. There are no tears and no regrets. She's grateful early detection has set her on a path to spend many more years with her husband and five children.
She acknowledges there have been difficult days.
 "It's overwhelming because you get this diagnosis and it's like, ugh," she said. Her care team hoped a lumpectomy would end her treatment. But after a second type of cancer was found, Marty was certain bilateral mastectomy would bring peace of mind.
"It was a hard decision. But talking it over with my husband, of course his biggest concern is that he wants me to be around for as long as I can be," she said.
A family history of breast cancer meant Marty was vigilant about annual mammograms. Since turning 40, she went every year to the Mercy Breast Center for screening. In 2017, she skipped a year – just one of those things. Then in late 2018, the thought nagged at her that she needed to go in for a mammogram.
"God put in my mind to get my screening done. We can all say, 'Oh, I don't have time. I don't want to do this. It's painful. It's embarrassing.' But bottom line, unless you focus on prevention, it could be so much worse. I'm very blessed. I feel like we caught it very early," she said.
She believes 3D technology now available likely made a difference for her, detecting cancer at an early and more treatable stage. She praised the team at the Mercy Breast Center, which offered what she called "seamless" navigation throughout her treatment. Dr. Andrea Placzek, Mercy radiologist, was "so intelligent, very supportive, understanding and compassionate," Marty said.
Breast health navigators have helped guide Marty through the process. Dr. James Irwin, the Mercy surgeon who performed Marty's lumpectomy, called her to relate good news that her lymph nodes were free of cancer and the bad news that there was additional breast cancer.
Mercy's care was thorough, right down to giving her the "Breast Cancer Treatment Handbook" by Judy Kneece, a resource Marty turned to regularly for information. A grant from Susan G. Komen Ozark paid for copies of the handbook, part of a navigator's salary and patient transportation over a year's time.
Marty, now 52, has always been an advocate for mammograms. Now she's even more vocal about encouraging those around her to get annual screenings.
"We live our lives not thinking about prevention because we think, 'That's not going to happen to me.' But it can. The sooner you detect it, the easier the treatment and the better the cure," she said.
She has some good role models. Two of her aunts had successful treatment for breast cancer and one is now 94 years old.
Click here to hear Dr. Andrea Placzek talk about how how 3D mammography changes lives.
The Mercy Breast Center at 3101 S.E. 14th Street in Bentonville is committed to helping women with early detection by offering convenient ways to get a mammogram, especially through online scheduling. Mercy offers 3D technology exclusively, for more accurate detection for all women and those with dense breast tissue.