Dana Smith has earned our latest Daffodil Award for outstanding, compassionate care provided in support of our nurses at Mercy Hospital South.
Dana is a sitter in the emergency department. A co-worker nominated her by writing: "Dana is always so helpful and kind. She talks to our patients while she is sitting with them, calming them and really listening to them. She goes above and beyond, not only for patients, but for her co-workers as well. During a snowstorm, my windshield wiper blade broke, and I had no clue how to fix it to get home. Dana took it and used a thermometer probe cover to fix it for me so I could drive home to my family. We love her in the emergency department."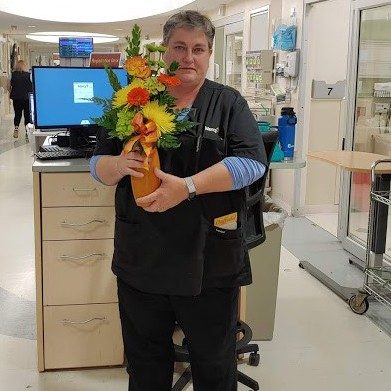 Dana Smith, emergency department, was honored with a Daffodil Award for the compassionate care she provides at Mercy Hospital South.
The Daffodil Award is a program at Mercy Hospital South to honor and celebrate co-workers outstanding, compassionate care in support of the nursing team. Each month, Mercy Hospital South nursing leaders choose an award winner from nominations submitted by patients, visitors and co-workers.