But now, thanks to specialists who train for these types of scenarios, there is good news for children and families facing these procedures. Many children's hospitals employ Certified Child Life Specialists (CCLS), professionals who empower children, adolescents and families to cope with difficult procedures.
Medical professionals and families can work together to provide the most appropriate care while also providing for the psychosocial needs of patients and their families.  Interventions provided by a certified child life specialist such as preparation, support, distraction and debriefing can be helpful in avoiding sedation for pediatric outpatient procedures.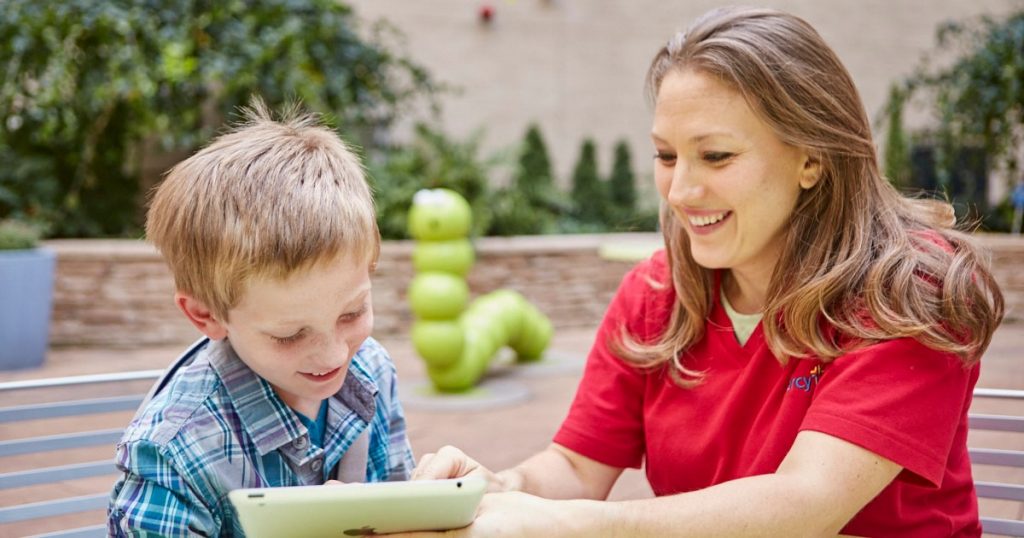 Certified Child Life Specialist Ali Stewart works with a young patient at Mercy Children's Hospital.
Child life specialists and other medical professionals have found that many children cope better with procedures when they are well prepared. An experienced CCLS is proficient in assessing the best way to prepare a child for a procedure. Some pediatric patients have unique learning styles that must be considered in order to help them fully understand the procedure. Other children do better without preparation, and prefer to learn about what is happening as it is happening. There are also some young patients who prefer no preparation at all. These kids typically do well with support and distraction, interventions a CCLS is also equipped to provide. 
Support and distraction during procedures will work best when individualized.  Children learn about environments and experiences through play.  Many hospitals distract pediatric patients through play by using popular technology like tablets, video games and movies.  Other age-appropriate forms of distraction are also effective. They may include seek- and- find books, guided imagery, singing and even simple conversations about a subject the child enjoys. 
Support is equally as important as distraction. Considering and responding to what the child might be thinking, offering a calming presence, suggesting a more comfortable position and debriefing the situation afterward are all interventions which can help the child manage challenging events without sedation.
Although there are situations in which sedation may be the best choice for helping a child deal with a medical procedure, sedation is not without risk. There are other ways to help kids master some challenging medical procedures.  If your child is scheduled for an outpatient procedure, consider asking a child life specialist to use his or her specialized assessment process to plan an intervention suited to your child and family's individual needs.