OKLAHOMA CITY (May 7, 2019) – Mercy celebrated a major milestone Tuesday in the construction of a hospital in southern Oklahoma City. Crews lifted the final steel beam into the frame of Mercy Hospital Oklahoma City – South. The hospital will be the first new hospital Mercy has built in the city since 1974 and one of only a few new hospitals in the metro area in the last 50 years.
The $150 million project is on track to open in summer 2020. The six-story patient tower will serve a community with a growing demand for health care.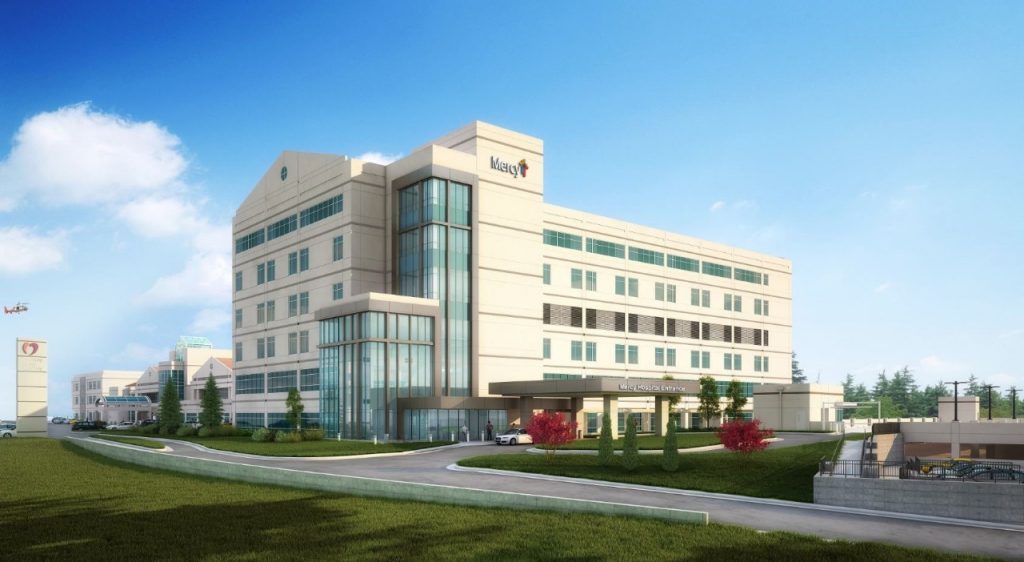 Features and services will include:
•    A six-story, 228,000-square-foot patient tower
•    36 beds for Mercy patients with space to add 36 beds in the future
•    16 beds to serve Oklahoma Heart Hospital patients
•    Surgery and endoscopy suites
•    Outpatient imaging for X-rays, ultrasound, radiography, CT scans and MRI 
•    Laboratory services
•    Exam and procedure rooms
•    Cancer and infusion services
•    Inpatient pharmacy
•    Chapel
In addition, Mercy will initially offer inpatient and outpatient general, orthopedic and gynecological surgery, ear, nose and throat, pain management and urology services.
"We feel so fortunate to be able to serve this incredible community and bring the high-quality health care Mercy is known for to a growing area," said Jim Gebhart, president of Mercy Hospital Oklahoma City and regional strategy officer for Mercy. "One of the most exciting aspects of this new facility is that we will have the ability to quite literally grow with the community. This hospital will have the space to be able to double our inpatient capacity in the future and expand services to meet the community's needs."
Mercy Hospital Oklahoma City – South is being built on the campus of Oklahoma Heart Hospital South at South Sooner Road and the I-240 Service Road. Built in 2010, the heart hospital will also undergo renovations for an expanded emergency room and heart catheterization lab. Mercy will have additional beds to serve cardiac patients in its tower. The heart hospital has been Mercy's partner in providing cardiology services for nearly 20 years.
"We saw a need for additional health care services at our location in south Oklahoma City," said Peggy Tipton, chief operating officer for Oklahoma Heart Hospital. "We knew this was a great opportunity to expand our partnership with Mercy and better serve our patients and community."
Around 125 employees will work at the new hospital in addition to physicians. Mercy already has seven primary care and urgent care locations within 15 miles of the new hospital and has plans to expand locations in the future.