As an interventional radiologist, Carlos Mahia, M.D., may be recognized by many different titles, and now he is just one step away from a new designation. Dr. Mahia and his wife Dr. Paula Leiva are going to become American citizens when they take the Oath of Allegiance.
A native of Argentina, Dr. Mahia said they completed the examinations and the interview process on May 16. Their path to citizenship is a journey that started 10 years ago at Mercy Jefferson, when it was known as Jefferson Memorial Hospital.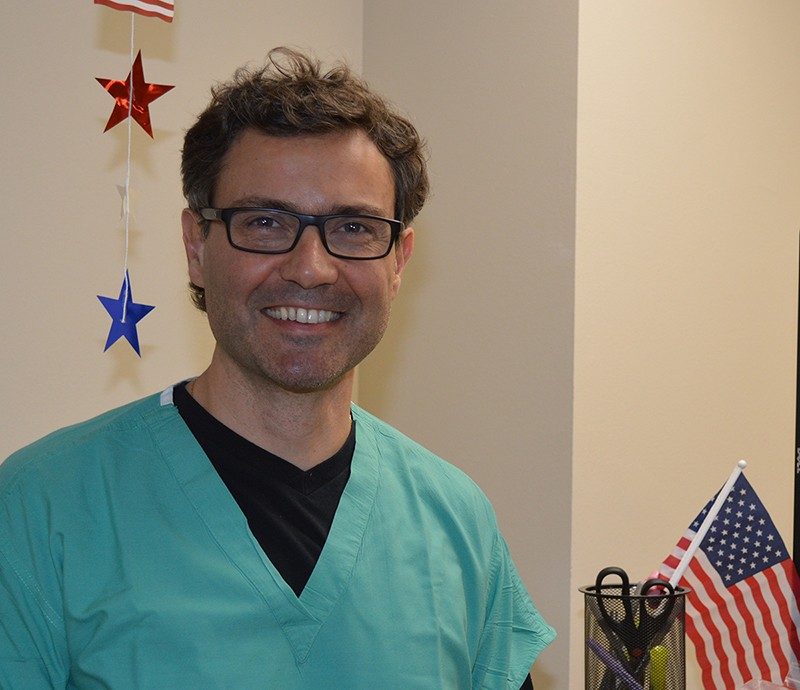 Mercy Jefferson co-workers decorated Dr. Carlos Mahia's work space with stars, flags, and red, white and blue balloons in recognition of his citizenship.
James Junker, M.D., Chief Medical Officer at Mercy Jefferson, led the radiology department at the Jefferson Memorial, when Dr. Mahia was recruited in 2009. Dr. Junker's practice, Scott Radiology, worked with hospital officials to make a case that the region was underserved for radiologists and sponsored Dr. Mahia to allow him to stay in the United States on a work visa.
"He is a great doctor and family man," Junker said. "America is fortunate to have the Mahia family as U.S. citizens, and the Jefferson County community is lucky to have him here providing medical care."
The Medical Imaging Department at Mercy Jefferson was decorated in red, white and blue on Friday, May 17, as Dr. Mahia's co-workers celebrated his accomplishment with him. He said the only remaining step is to receive the official notice and date for his Naturalization Oath Ceremony.
"This is something I am very proud of and grateful for the opportunity," Dr. Mahia said. "We would like to thank Dr. Jim Junker who decided to give my wife and I an opportunity when we needed it, Scott Radiology, JMH and everyone who helped us make it happen. We would like to thank and acknowledge the people in this hospital and community who made us feel welcome and part of it from day one."