An outpouring of support from Evan Wallace's co-workers has earned the patient care associate a Daffodil Award for outstanding, compassionate care provided in support of the nurses at Mercy Hospital South.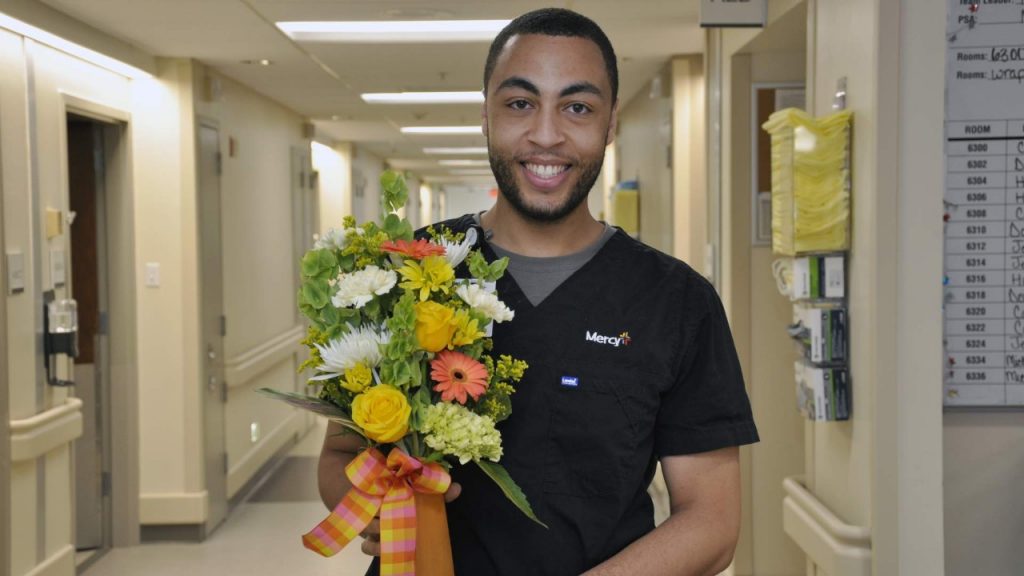 Evan Wallace, patient care associate, surgical stepdown, was honored with a Daffodil Award for the compassionate care he provides at Mercy Hospital South.
Wallace's co-workers in the surgical stepdown unit nominated him by writing:
"Evan is always helpful and kind. If he ever gets overwhelmed or frustrated, he never shows it. I have never had a patient complain about Evan; all I hear are compliments from patients about him. Patients and co-workers look forward to when Evan works because we know that he will do his best. Evan deserves to be recognized for his compassion towards patients, helpfulness towards co-workers and how hard he works."
"There are not enough words to describe Evan's trustworthy spirit. Not one of the many times he has been called for help has he said 'No.' When you call Evan, you know he will come as fast as possible and with a smile on his familiar face. Patients appreciate his warmth and kindness. I frequently see them call him because they know he will not bring judgement but instead encouragement. As a co-worker, you always see Evan helping anyone who needs it. He is often seen in patient rooms that are not assigned to him. He goes above and beyond."
"Evan is always quick to help, no matter what. Whether it's a patient care associate, nurse or patient who needs help, he makes time. I know that everyone likes to see that they will have Evan working with them for the day because it always means it will be a good day. It is a pleasure to work with Evan, and we are so happy to have him on the surgical stepdown team. He deserves to win the Daffodil Award because he needs to know how much we all appreciate his hard work and attitude."
"Evan is very kind to all our patients, even when it is difficult. He always seems to find a way to bring sunshine to the patient's day. Evan is a real team player and is always willing to lend a helping hand. He makes us as nurses rest assured that our patient's needs will be met when we are not there. He brings confidence and trust that is critical to not only a quality amazing patient care associate but a quality healthcare team. His positive attitude is contagious, and he is greatly appreciated here on surgical stepdown. He is a perfect candidate for this award."
"Evan is always pleasant, ready to help and professional with co-workers and patients alike. He is a true asset to our team."
"Evan is a joy to work with. He is always quick to help and even checks in throughout the day to offer help. He is always smiling, and his positive attitude is infectious. I frequently hear from my patients how much they like him and what a good caretaker he is. Working with Evan makes my day."
"I cannot think of a co-worker more deserving of the Daffodil award. As a new nurse, there have been countless times when I needed help and Evan was always there. This positivity is infectious, and he never fails at checking in on his nurses. I could not do my job without him."
"Evan's great! I truly can say that I have a sense of relief when I know he's assigned to my hall. To know you have a great foundation of assistance to get through the day means so much and lessens any anxiety for the day. It's like an anti-anxiety med, but in the form of Evan!"
"Evan is one of the best patient care associates I have ever worked with. I always know I have a friendly helping hand when Evan is here. He goes above and beyond every time he works. I have asked Evan for help when he's on the other hallway, and even when he's pulled to another floor, he happily always comes to help. He is very deserving of this award. Thank you, Evan."
The Daffodil Award is a program at Mercy Hospital South to honor and celebrate co-workers outstanding, compassionate care in support of the nursing team. Each month, Mercy Hospital South nursing leaders choose an award winner from nominations submitted by patients, visitors and co-workers.