Cayla Miller is being honored with a Daffodil Award for the outstanding, compassionate care she provides in support of our nurses at Mercy Hospital South. Miller is a Patient Care Associate at the de Greeff Hospice House.
A co-worker nominated Miller by sharing this story: "Cayla Miller provided amazing, compassionate care to our patient's family. After their loved one had passed away, Cayla spent more than an hour bathing and dressing him in his finest suit per the custom of his family's religious faith. She watched a YouTube video in a foreign language to correctly tie his tie. When the funeral attendants came for him, one remarked to the other, 'Look at that tie. It's a Windsor knot.' 'No,' his companion replied, 'that's a double Windsor knot.'
"Cayla always goes above and beyond, providing excellent, compassionate care for her patients and families. She treats them like her own family. I cannot think of anyone more deserving of this award than Cayla Miller!"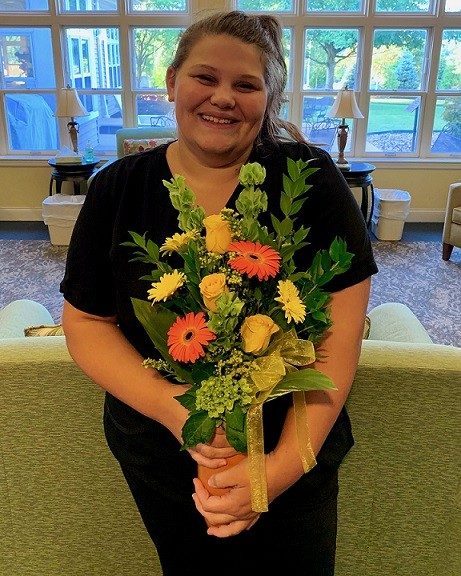 Cayla Miller, de Greeff Hospice House, was honored with a Daffodil Award for the compassionate care she provides at Mercy Hospital South.
The Daffodil Award is a program at Mercy Hospital South to honor and celebrate co-workers who provide outstanding, compassionate care in support of the nursing team. Each month, Mercy Hospital South nursing leaders choose an award winner from nominations submitted by patients, visitors and co-workers.