For a woman, finding out she has breast cancer is just the start of a journey that winds through treatment and recovery. That treatment and recovery can take both a physical and mental toll on the patient. The breast surgeons at Mercy Hospital South are the first surgeons in the St. Louis area to offer BioZorb, a tool that can improve the effectiveness of radiation therapy treatment and speed recovery by helping women avoid a mastectomy and reconstruction surgery.
BioZorb is a 3D spiral marker that surgeons use to fill the space created by the removal of breast tissue during a lumpectomy. The spiral shape of the device allows for easier targeting of radiation treatment compared to traditional clips, which can become compressed and irregularly shaped. This improved targeting can shorten the time needed for radiation treatment.
Karen Dickmann was diagnosed with breast cancer after her annual mammogram detected a small tumor. Dickmann's surgeon, Dr. Jennifer Hawasli with Mercy Clinic Breast Surgery – Southfork, discussed the treatment options which included a lumpectomy and the use of BioZorb.
"It really was a pretty easy decision," said Dickmann. "My husband and I talked about it and knew this was the best option."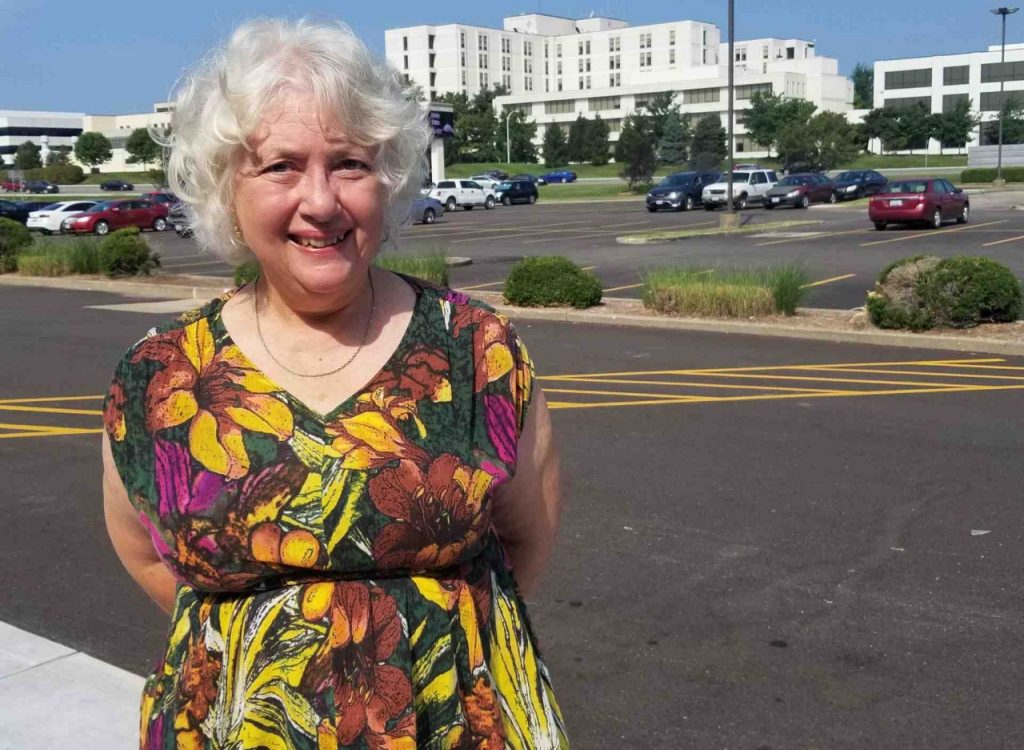 Surgeons placed a BioZorb 3D spiral marker in Karen Dickmann. The marker helped shorten the course of her radiation treatment and improved the cosmetics of her breast.
Dickmann underwent surgery followed by just two weeks of radiation treatment and no chemotherapy. Seventeen months after her surgery, Dickmann is cancer free.
"While there is a medical benefit with this device, what we hear from our patients is the relief it brings them by allowing them to choose to undergo a lumpectomy to remove the lump instead of a mastectomy to remove the entire breast, followed by reconstructive surgery," said Dr. Hawasli.
While the BioZorb is in place, it allows the patient to find easily the location where the tumor was removed so she can check the location for any return of the tumor. Over time, the woman's own tissue fills in the space shaped by the device, which slowly dissolves over two years and leaves behind the clips to mark the location.
"I could feel it in place at the beginning, but there was no pain from it," said Dickmann. "Now, I don't notice it, unless I'm looking for it. When I check the area, I can feel it."
"Our patients tell us how happy they are with the way it improves the cosmetic appearance of the breast, especially for women who had large tumors," said Dr. Beth Snell, breast surgeon with Mercy Clinic Breast Surgery – Southfork. "It allows the body to heal and return to how it looked before their lumpectomy. The results we see just six months after surgery are amazing."
The surgeons with Mercy Clinic Breast Surgery – Clayton-Clarkson, Mercy Clinic Breast Surgery – Tower A and Mercy Clinic Surgical Specialists – Medical Tower B also offer BioZorb as a treatment option for their patients.