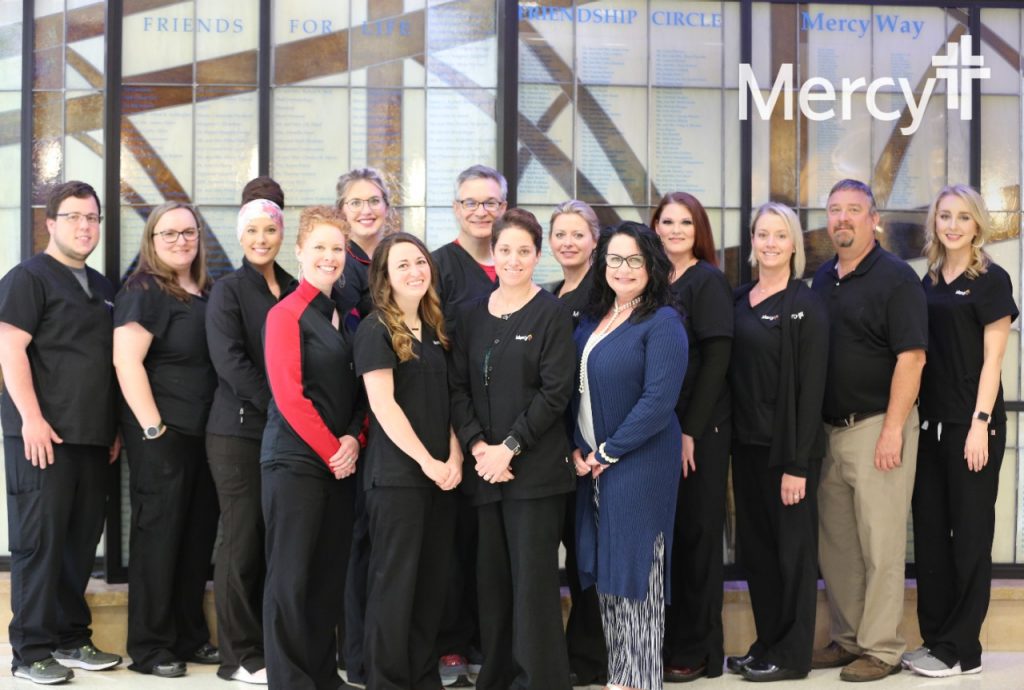 Members of the Mercy Hospital Northwest Arkansas stroke team
When it comes to treating stroke, it's important to act quickly and seek care that can help lessen its potentially debilitating effects. It's also essential to get help at a hospital that provides top-level stroke care.
The Joint Commission announced recently that Mercy Hospital Northwest Arkansas has earned certification as a Primary Stroke Center. The certification means Mercy Hospital can display The Joint Commission's Gold Seal of Approval, a symbol of quality that reflects Mercy's commitment to providing safe and effective patient care.

Mercy Hospital underwent a rigorous onsite review June 12. During the visit, a team of Joint Commission reviewers evaluated compliance with related certification standards including program management and delivering and facilitating clinical care. Joint Commission standards are developed in consultation with health care experts and providers, measurement experts and patients. The reviewers also conducted onsite observations and interviews.
"Achieving Primary Stroke Center status speaks to the dedication of Mercy Hospital's stroke team and their commitment to providing consistently excellent response to stroke," said Eric Pianalto, president of Mercy Hospital. "I'm so proud of this team and all of the co-workers who support stroke care for addressing this important health care need in our community."
Primary Stroke Center Certification recognizes health care organizations committed to fostering continuous quality improvement in patient safety and quality of care, said Mark Pelletier, chief operating officer for Accreditation and Certification Operations and chief nursing executive, The Joint Commission.
"We commend Mercy Hospital Northwest Arkansas for using certification to reduce variation in its clinical processes and to strengthen its program structure and management framework for stroke patients," he said.
In addition, The Joint Commission announced that Mercy Bella Vista, a multispecialty facility with a 24-hour Emergency Department, was certified as an Acute Stroke Ready Hospital. The certification signifies the clinic's expertise in diagnosing and treating stroke.
To learn more about The Joint Commission and American Stroke Association certifications, click here.
Stroke is the No. 4 cause of death and a leading cause of adult disability in the United States, according to the American Heart Association/American Stroke Association. On average, someone suffers a stroke every 40 seconds, someone dies of a stroke every four minutes and 795,000 people suffer a new or recurrent stroke each year.