Marie Judd hadn't even thought about it. To her, there was nothing to it. She never thought twice about how many people she may impact with her work to raise money for Mercy Health Foundation's oncology patient assistance program.
Judd, who has volunteered with Mercy for six years, donated her time to stitch together a large, pink quilt made of a collection of t-shirts from Mercy breast cancer awareness and treatment initiatives. From Sept. 9 to Oct. 2, the quilt will be raffled off with the proceeds going to the assistance program, which offers help with some of cancer patients' expenses such as transportation, meals, medication and more.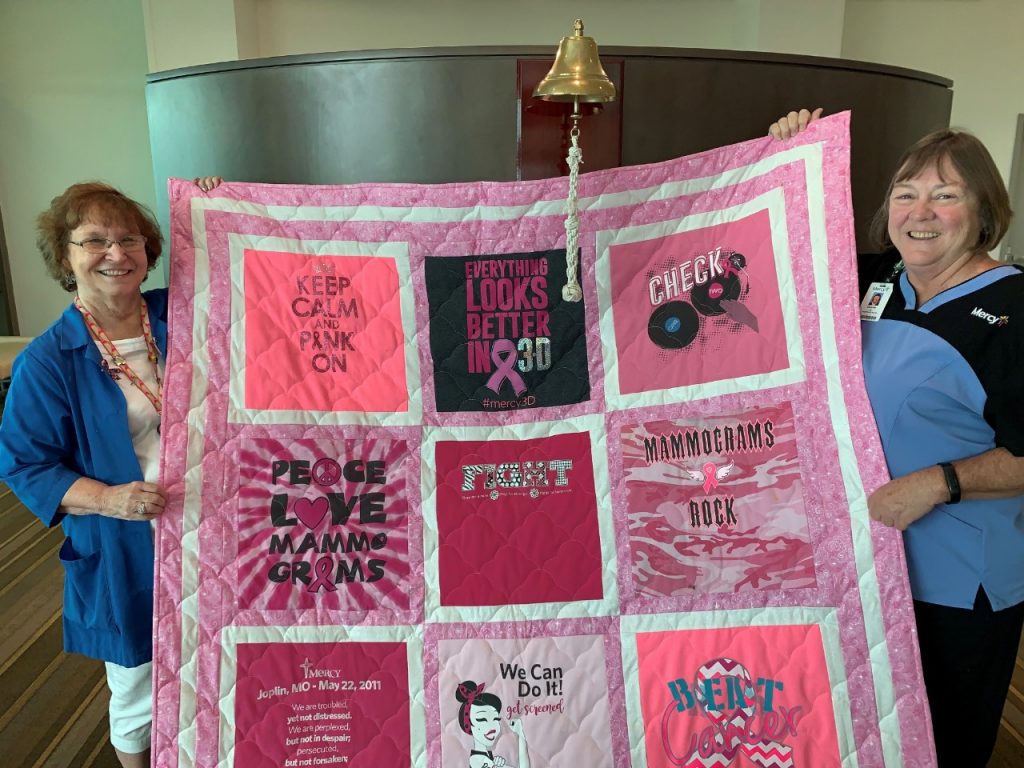 Marie Judd (left) made a quilt that will be raffled off to raise money for Mercy Hospital Joplin's oncology patient assistance program out of t-shirts donated by nurse Charlene Campbell (right).
An 18-year breast cancer survivor herself, Judd said crafting the quilt for the fundraiser was "just my way of giving back." Although she has made dozens of other quilts for patients over the years, she is quick to deflect the credit for her work, even preferring not to deliver them herself so she can remain anonymous.
"I just do it because I can," she said. "I don't do it for any glory or anything like that because it all goes back to God."
Raffle tickets will be available to co-workers and the public for $1 each or six tickets for $5. Tickets will be available at Sisters Health Boutique and the main gift shop at Mercy Hospital Joplin.
In addition to the upcoming quilt raffle, a recent sale of T-shirts with the phrase "I hate cancer" raised $1,800 for the patient assistance program. A total of 143 shirts were sold during the fundraiser.
"Our co-workers are amazing when it comes to things like this," said Lisa Nelson, coordinator of retail shops. "They love to know that their hard-earned money that they're spending is going to help a person. They don't need to know who it is, but it makes them feel good to know that it's helping someone. Everybody has been touched by cancer in some way, and when they know that their money is going toward that, they're very generous because they know that someone's going to be helped with that money."