Ask any parent and they'll tell you nothing is more important than the safety of their child. But scan the website or aisles of your favorite baby store and the choices for safety seats are overwhelming. Infant car seats, booster seats, convertible seats, LATCH systems, extra padding, rear-facing, forward-facing – the features are seemingly endless.

Car crashes are one of the leading causes of death for children, but selecting and using the correct car seat or booster seat can dramatically reduce the risk of death or serious injury.
Rear-facing guidelines
The laws vary by state but the American Academy of Pediatrics and the National Highway Transportation Safety Administration clarified their policies in 2018 to encourage parents to keep their children in rear-facing seats for as long as possible.
"I recommend no longer using age as the reason to turn kids forward-facing in the car seat but instead follow the recommendations of the car seat manufacturer based on the child's weight and height," said Dr. Elizabeth McCabe, mom and Mercy pediatrician. "Research has shown that kids properly restrained in rear-facing car seats have a lower risk of injury if they are in an accident."
Most convertible seats have weight limits that allow children to ride rear-facing until up to 40 pounds and in some cases, 50 pounds. Height limits vary per manufacturer.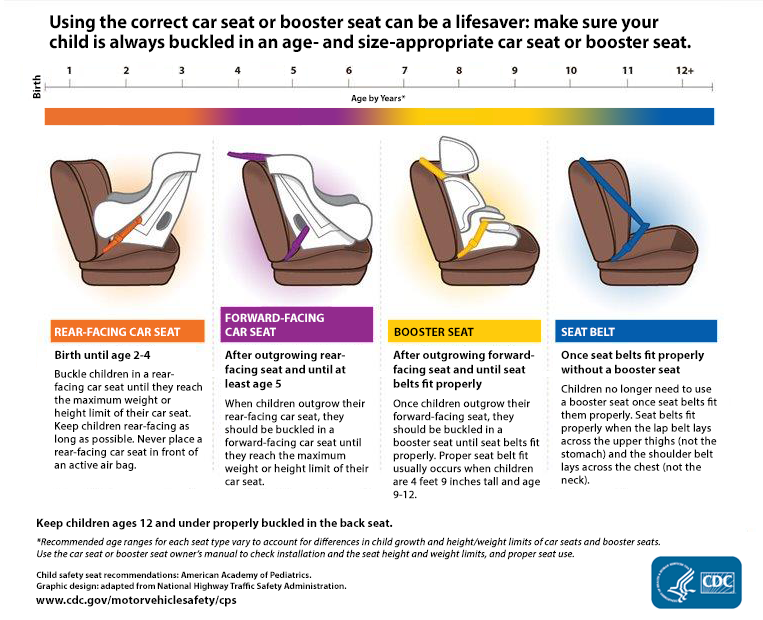 Source: CDC
Forward-facing guidelines
Once your child has met the manufacturer's limit for a rear-facing seat, it's time to turn them around in the car. Children should use a forward-facing car safety seat with a harness for as long as possible, until they reach the height and weight limits for their seats. Many car seats can accommodate children up to 65 pounds.
"There are so many choices in forward-facing car seats, but I tell parents to look for options with a five- point harness," Dr. McCabe said.
Back seat in a booster is best
The back seat is the safest place for kids under 13. Kids in the 8 to 12 age range should be in a booster seat until they are big enough to fit in a seat belt, which is typically when they are at least 4 feet, 9 inches tall. The seat belt should fit properly with the lap belt snug across the upper thighs and the shoulder belt positioned across the chest and shoulder away from their neck or face.
Never use a car seat if:
- It's expired. (Check the label.)
- Doesn't have a label with the manufacture date and model number.
- Has any visible damage or cracks.
- Was recalled.
- Was involved in a moderate or severe crash.
And finally, when in doubt, ask your pediatrician which car seat is best for your child.
*Source: American Academy of Pediatrics, Centers for Disease Control, NHTSA