September 23, 2019
The DAISY Award is an international program to honor and celebrate nurses who provide extraordinary, compassionate and skillful care every day. The DAISY Foundation established the award in memory of Patrick Barnes who died at age 33 from complications of an auto-immune disease. The care he and his family received from nurses while he was ill inspired the award. Each month, Mercy Hospital South nursing leaders choose an award winner for their facility.
October 2019
Carol Deboard, RN, Skin Wound Ostomy Team (SWOT), earned the latest DAISY Award at Mercy South. Deboard received two nominations for the same care: one from her co-workers from SWOT and another from a patient, Nancy Velten. Velten was so appreciated of the care she received, she returned to Mercy South to surprise Deboard with the news she won the DAISY Award.
Velten nominated Deboard by writing:
"Carol Deboard from SWOT did so much for me that I knew I had to do something to recognize her. When learning I had Ileostomy surgery, she turned a horrible wake up call for me into a situation that both mentally and physically became more tolerable. I won't belabor my surgery but rather about what a wonderful lady did to help me come to grips with this life changing experience. I was devastated, horrified and really, really scared of the appliance that I now wore. I didn't know what to do with it or how to wear it. What happens now?  What happens in a week, a month or when I'm released to go home? The mere thought of all of these unanswered questions was driving me into a depression the depths of which I didn't think I could ever go to or climb out of.
"Then Carol turned up at my bedside, gave me hope and started to give me and my husband confidence to tackle this change to our lives. I can't tell you how many times she came to my room to inquire, 'How are you doing today?' or sit for five minutes and assure me 'things will get better.' She even scheduled a special training for my husband and me and walked us through 'the steps' of cleaning, changing appliances and everything else involved. Carol's name became standard conversation between me, other family members, and friends; and I clung to the guidance and hope she gave us. Each visit she would provide me with the articles, magazines, websites and exceptional places to visit on YouTube.
"Carol is a caregiver; a wonderfully skilled professional woman in her field and a tremendous asset to the hospital, her supervisor and, perhaps the most important, to her patients. My husband and I would have been lost without her. She so much deserves the DAISY Award and I pray that whatever powers that be, who makes the 'yes' and 'no' decisions for this award please note that Ms. Deboard is considered favorably."
Nancy Velten (left) came back to Mercy South to honor Carol Deboard for the care she provided Velton, which earned Deboard the DAISY Award.
September 2019
Mishelle White, RN, de Greeff Hospice House, earned the DAISY Award at Mercy Hospital South.
A patient's daughter nominated White by writing: "Mishelle is very good at what she does. My father was in hospice for six days, and she was very caring, thoughtful, friendly, patient and knowledgeable. Hospice, in my opinion, would be a difficult place to work. I told her this and she answered with a positive, telling us it is a rewarding place to be and that she felt honored to take care of the dying. We all felt relieved when she was the RN during my father's brief stay. Kudos to Mishelle for being an exemplary nurse."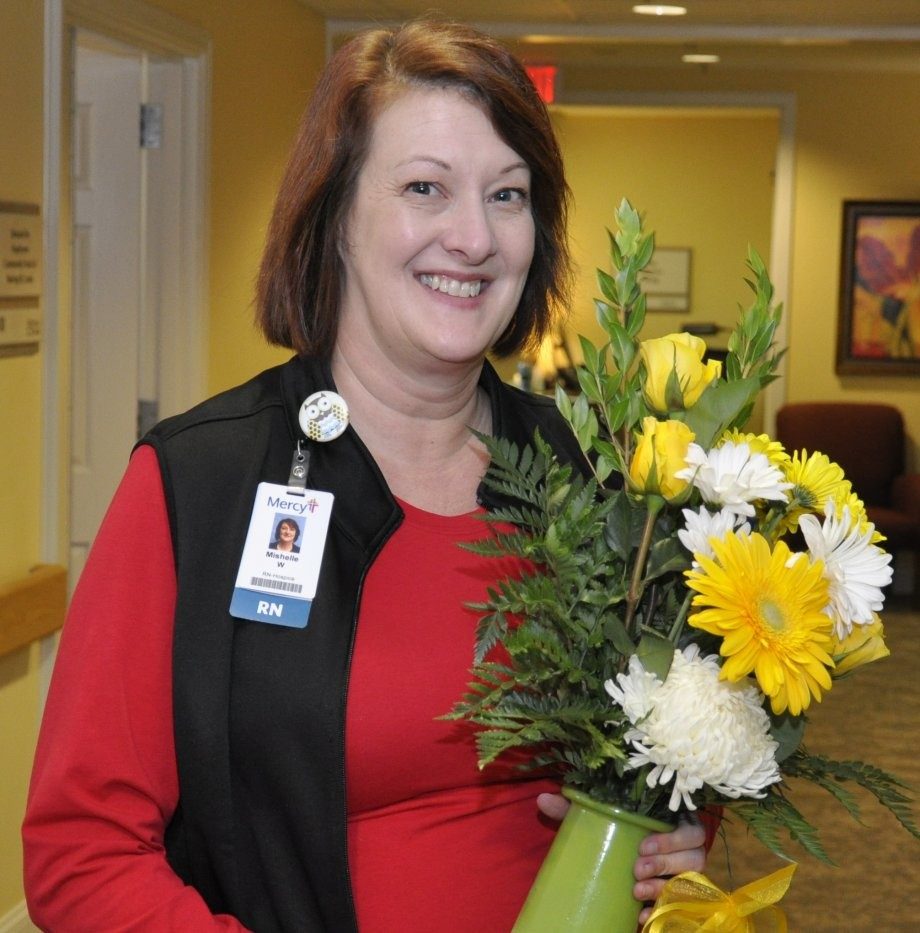 Mishelle White, RN, de Greeff Hospice House, earned a DAISY Award at Mercy Hospital South for compassionate, extraordinary nursing care.
Media Contact
Joe Poelker
St. Louis, St. Louis - South