November 11, 2019
Two new providers have joined the Therapy Services team at Mercy St. Francis Hospital, and that means occupational therapy is now available in addition to physical therapy.
Brittany Nickelson is the new occupational therapist. While physical therapists focus on improvement a patient's ability to move their body properly, occupational therapists work to ensure the patient can perform everyday tasks.
"I love helping patients regain independence in the activities they love," said Nickelson. "We all hope to live on our own for as long as possible, and my work helps people do just that."
Nickelson grew up in nearby Van Buren, Missouri, and was a high school athlete. She earned a full-ride softball scholarship to Three Rivers College in Poplar Bluff, Missouri. That's where she met another player and brought him back home with her. "My husband, Jake, was the catcher on the baseball team," she said. "He's now the baseball coach and a teacher in Winona."
After graduating from Three Rivers, Nickelson earned her master's degree in Occupational Therapy from the University of Missouri – Columbia, which explains why she is a self-described "die-hard" Mizzou football fan.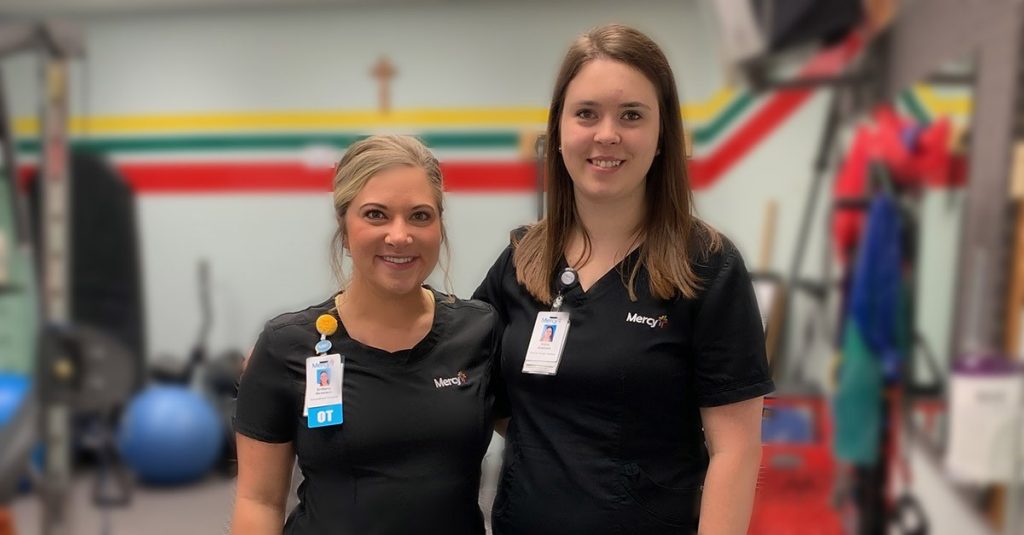 Occupational therapist Brittany Nickelson and physical therapy assistant Alicia Goshorn are now seeing patients at Mercy St. Francis Hospital.
Alicia Goshorn also recently joined the Mountain View team, as a physical therapist assistant. She's originally from Ohio but has lived in Missouri for the past 14 years, growing up on a farm near West Plains. She recently graduated from Ozarks Technical Community College.
Her time on the farm may explain why her hobbies include gardening, hiking and kayaking. And she definitely has a love of animals. "I have a dwarf hamster named Edwin and a kitten named Felix. Yes, Felix would like to have Edwin for dinner."
Goshorn and Nickelson join a team of four others who offer everything from physical therapy to speech language therapy.
"A few visits with us really can make a big difference in your quality of life," said Krista Schnurbusch, manager of Mercy Therapy Services in Mountain View. "If your doctor says you could benefit, pay attention. We'll do everything we can to get you back to the things you love doing."
Media Contacts
Sonya Kullmann
Branson, Cassville, Lebanon, Mountain View, Rolla, Springfield, Aurora