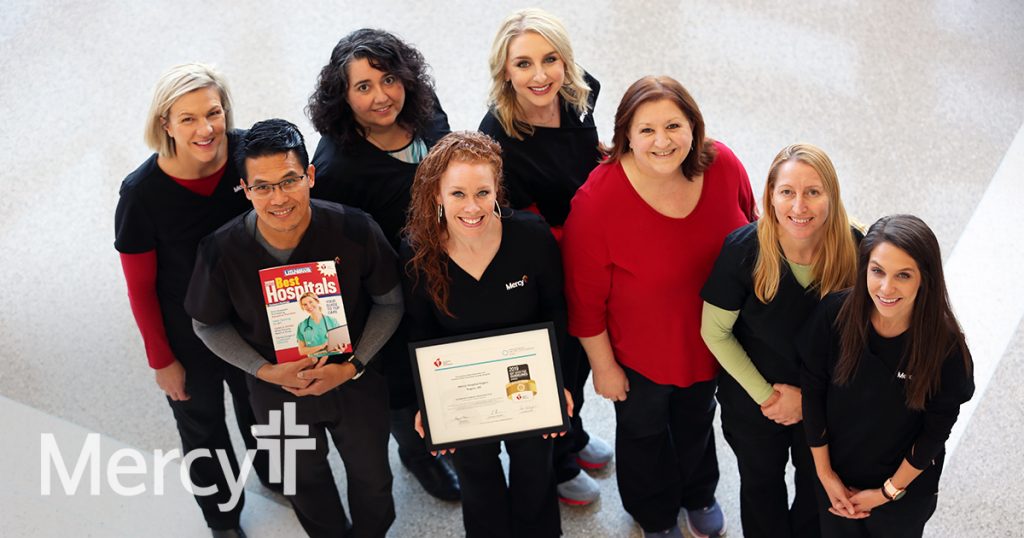 Members of the Mercy Neuro Stroke Team
Mercy Hospital Northwest Arkansas has earned a Gold Plus award from the American Heart Association and the American Stroke Association, recognizing consecutive years of adherence to evidence-based treatment guidelines for stroke.
The award acknowledges Mercy's continued success using the "Get With The Guidelines-Stroke" program administered by the associations.
"We are so proud of the continued teamwork and dedication shown every day to help provide our patients excellence in their stroke care," said Robin Vatalaro, Mercy's neuro stroke services coordinator. "We depend on team members from a multitude of departments to use these guidelines to ensure the best in patient care and outcomes."
Hospitals earn Gold Plus by meeting specific quality achievement measures for the diagnosis and treatment of stroke patients. These measures include evaluation of the proper use of medications and other stroke treatments, in addition to using the most up-to-date, evidence-based guidelines with the goal of speeding recovery and reducing death and disability for stroke patients. 
"Our stroke team is dedicated to giving patients fast, accurate diagnosis and treatment, and I could not be more proud of their continued recognition by the American Heart Association," said Eric Pianalto, president of Mercy Hospital Northwest Arkansas.
According to the American Heart Association and the American Stroke Association, stroke is the No. 5 cause of death and a leading cause of adult disability in the U.S. Nearly 795,000 people suffer a new or recurrent stroke each year.