When Karen Gibson and her family gather for the upcoming holidays, she will celebrate with a new level of energy and confidence in her heart. She will also hold some bragging rights as the first Mercy Hospital Jefferson patient to receive the world's smallest pacemaker.
On December 4, interventional cardiologist Dr. Bassem Mikhail placed the device in her heart through a cardiac catheter, and Gibson was able to go home the next day with no surgical incision or pacemaker implant under her skin.
Medtronic's Micra Transcatheter Pacing System (TPS) provides advanced pacing technology in a device about one-tenth the size of a traditional pacemaker. About the size of a large vitamin capsule, the device does not require cardiac leads. Dr. Mikhail received specialized training through Medtronic in Minnesota.
"The device is small enough to be delivered through a catheter and implanted directly into the heart," Mikhail said. "The benefits for the patient are outstanding, beginning with a quicker recovery time following the procedure. The device provides a safe alternative to conventional pacemakers and is designed to automatically adjust pacing based on the patient's activity level."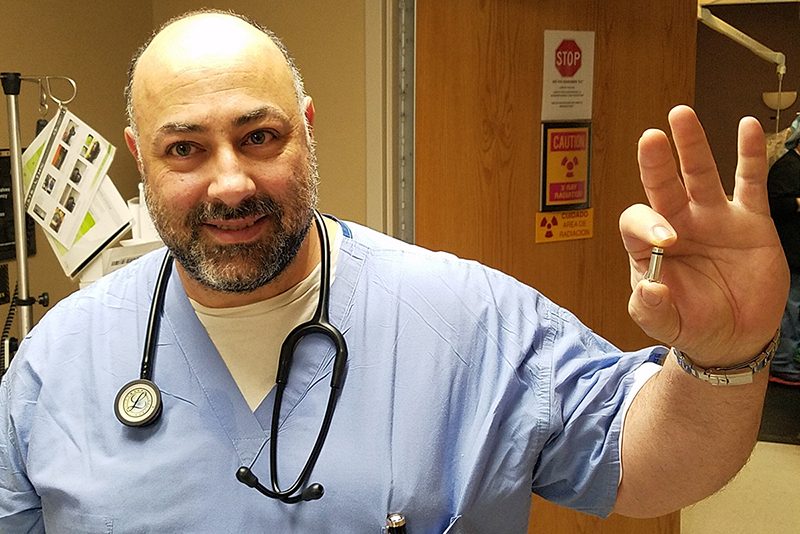 Dr. Bassem Mikhail holds a sample of the new Micra TPS, the world's smallest pacemaker. On Dec. 4, Dr. Mikhail placed the new technology in a patient at Mercy Hospital Jefferson.
The 74-year-old Gibson said she is excited about having extra energy to keep up with her great-grandchildren, including 8-month old Bryson Miller who visited her in the hospital less than three hours after her procedure.
A resident of Hillsboro, Missouri, Gibson said she was diagnosed with atrial fibrillation in 2014.
"My heart would pound really fast, and sometimes it would slow to almost a stop," Gibson said. "The pacemaker will control the beating, so I should be able to do a lot more, have more energy and not be so tired all the time."
Dr. Mikhail said symptoms like dizziness, fatigue, shortness of breath during normal activity or exercise are consistent with Gibson's diagnosis.
"The heart is unable to pump enough oxygen-rich blood to the body," he said. "Pacemakers are the most common treatment to help restore the heart's rhythm by sending electrical impulses to the heart. Unlike traditional pacemakers, this device does not require wires or a surgical pocket under the skin to deliver pacing therapy."
The Micra TPS includes a retrieval feature to be able to remove it when possible, but the device is designed to be left in the body. For patients who need more than one device, the miniature pacemaker can be permanently turned off, and the new device implanted without risk of electrical interaction.
The device is approved for some magnetic resonance imaging (MRI) scans and is designed to allow patients to be followed by their physicians through data sent remotely via the Medtronic CareLink Network. The Micra TPS was approved by the U.S. Food and Drug Administration in April 2016, and has been granted Medicare reimbursement, allowing broad patient access to the technology.
Gibson is looking forward to celebrating with a full house of family at her daughter Michelle Miller's home near DeSoto. Her heart will of course be filled with love, but also it will contain a tiny piece of the latest technology.