Thanks to the generosity of a very special patient and some of his good fortune, Mercy Hospital Carthage has been made even more beautiful on the inside.
Bruce Benson, a 95-year-old World War II veteran and Mercy Carthage patient, is perhaps best known for playing the National Anthem and taps in front of the Webb City post office every evening – rain, snow, sleet or shine – for more than three years. 
Benson plays to honor his late wife, Jane, because of her passionate patriotism and appreciation of Benson's Army service. The tribute is fitting, as the couple met during a USO show both were performing in; Benson played the cornet and his future wife was part of a dance school performing in the show.
His post office performances, however, are not the only way Benson makes a difference in the community. Last week, he donated to the hospital a collection of paintings by Virgil Lampton, a Pittsburg State University graduate and art professor emeritus at the University of Tulsa.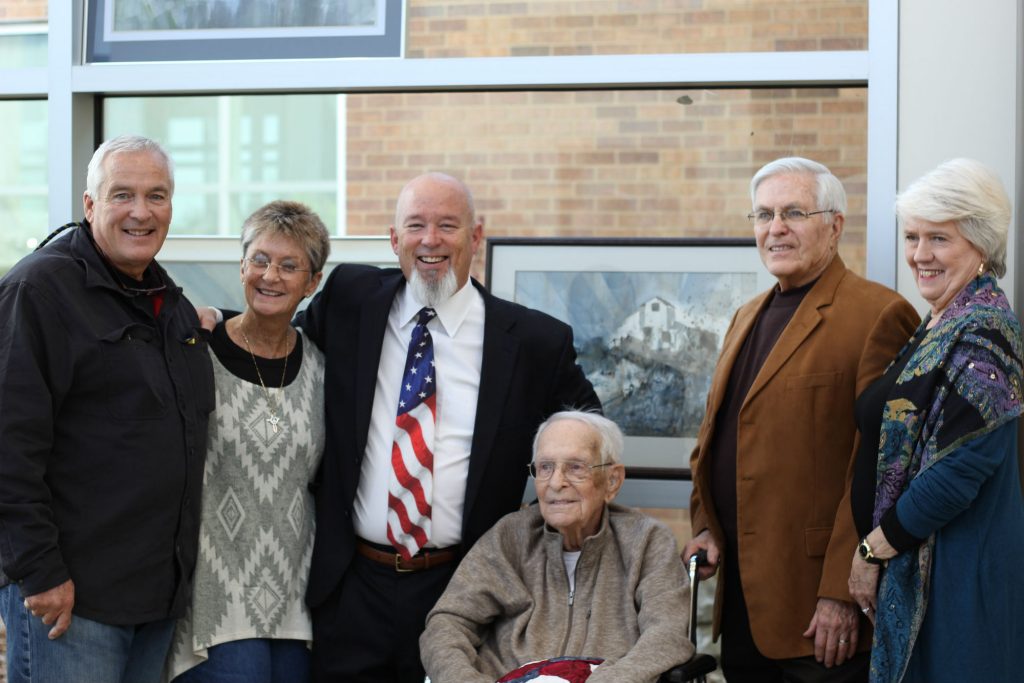 Lampton's works have appeared around the world, including in the Phillips Collection at Rockefeller Center in New York City and the Upjohn Company in Tokyo. Thanks to Benson's donation, Mercy Hospital Carthage can now be added to the list of places displaying Lampton's art.
At a ceremony announcing his donation, Benson said he came to own Lampton's paintings while he and his late wife operated a contemporary furniture store in Joplin.
"I ended up with some of Virgil's paintings, which I had for sale, but didn't sell, and they became part of my collection," Benson said. "In wandering these halls in my recovery from age and falling, I noticed the artwork and the donations that people had made, and the thought occurred to me that this would make a wonderful place for Virgil's paintings."
Benson's daughter, Susie Crutcher, contacted Lampton to ask for his approval of her father's plan. The artist agreed and even made it a point to attend the ceremony at the hospital.
"I think I've painted every barn in Southwest Missouri," Lampton joked. "I am honored, this is fantastic. And I'm thinking maybe I ought to go back and paint some more barns. I'm very honored to have these paintings in the hospital."