Mercy Hospital St. Louis' cardiovascular intensive care unit (CVICU) earned the prestigious silver level Beacon Award from the American Association of Critical Care Nurses (AACN).
The Beacon Award for Excellence — a significant milestone on the path to exceptional patient care and healthy work environments — recognizes unit caregivers who successfully improve patient outcomes and align practices with AACN's six Healthy Work Environment Standards. Units that achieve this three-year award meet national criteria consistent with ANCC Magnet® Recognition, the Malcolm Baldrige National Quality Award and the National Quality Healthcare Award.
For nearly two years, the CVICU co-workers worked diligently compiling data and completing the application.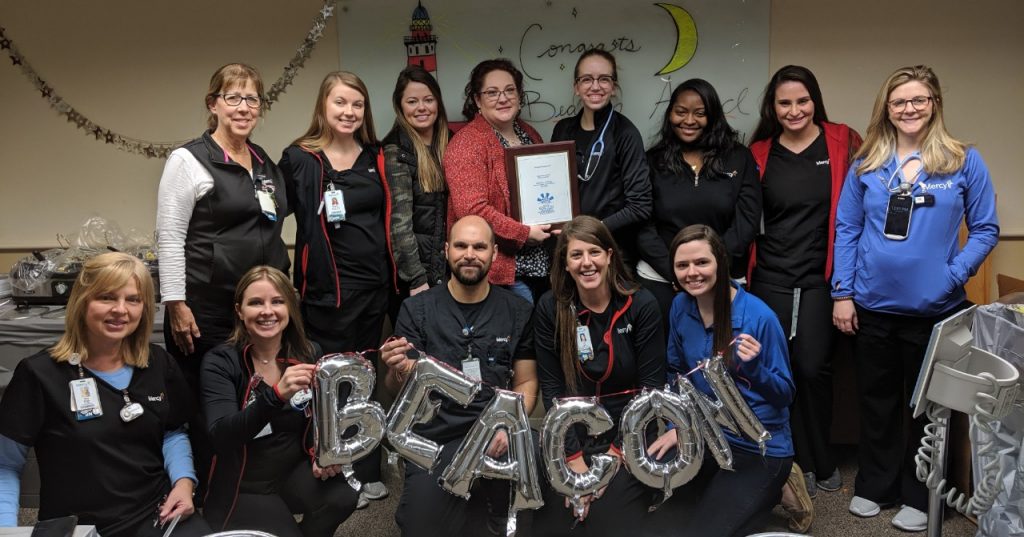 The CVICU team recently received the silver level Beacon Award for exceptional patient care and healthy work environment.
The silver-level Beacon Award for Excellence, also earned by Mercy's burn and transitional care units, signifies an effective approach to policies, procedures and processes that includes engagement of staff and key stakeholders. The unit has evaluation and improvement strategies in place and good performance measures when compared to relevant benchmarks. Mercy earned its silver awards by meeting the following evidence-based Beacon Award for Excellence criteria:
Leadership structures and systems
Appropriate staffing and staff engagement
Effective communication, knowledge management, learning and development
Evidence-based practice and processes
Outcome measurement
Established in 2003, the Beacon Award for Excellence offers a road map to help guide exceptional care through improved outcomes and greater overall patient satisfaction. U.S. and Canadian units where patients receive their principal nursing care after hospital admission qualify for this excellence award.