Environmental Services team member Danette Lechner was presented a Sunshine Award at a surprise announcement on the second floor of Tower B where she was working on January 23. Her name was selected from more than 26 nominations between July and September 2019.
Like the quarterly Daisy and Tulip awards, which recognize extraordinary service by nurses, techs and assistants, the Mercy Jefferson Sunshine Award has been established to honor co-workers in any other category.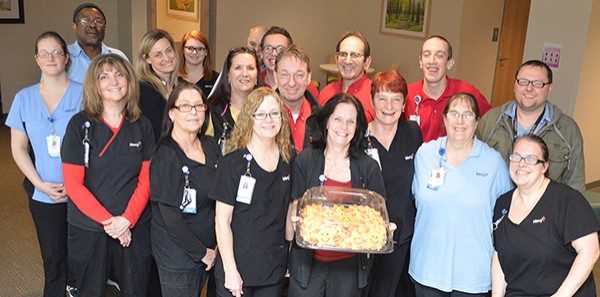 Several of Danette Lechner's co-workers were waiting to surprise her at the announcement of her Sunshine Award in January.
"I would like to nominate Danette the housekeeper on Medical 2 for going above and beyond," the nomination submitted by a co-worker said. "Danette will go get whatever is needed during a rapid response or code, when asked and without question. She is always so helpful."
"She walks the unit every morning checking on empty rooms to check for extra equipment that can be used elsewhere. She is always available to help staff in a pinch. I appreciate her talent, caring and teamwork with the nursing staff. Thanks for all you do Danette!"
Danette received a certificate, a sunshine pin to wear on her identification badge, and a tray of sunshine-shaped cookies to share with her co-workers.