The Mercy Hospital Jefferson Lunch and Learn series begins this spring with a focus on your heart health. The free monthly programs will feature physicians and other providers offering health education topics along with a healthy lunch.
Mercy Clinic Cardiology – Jefferson and Mercy Hospital Jefferson invite you to a free Lunch and Learn program from noon to 1:30 p.m. on Tuesday, March 3, in the Mercy Jefferson Conference Center.

Interventional Cardiologist Sushruth Edla, MD, will provide information on heart and vascular disease with emphasis on prevention and early detection. Seating is limited and advanced online registration is required. Click here to go to the registration page.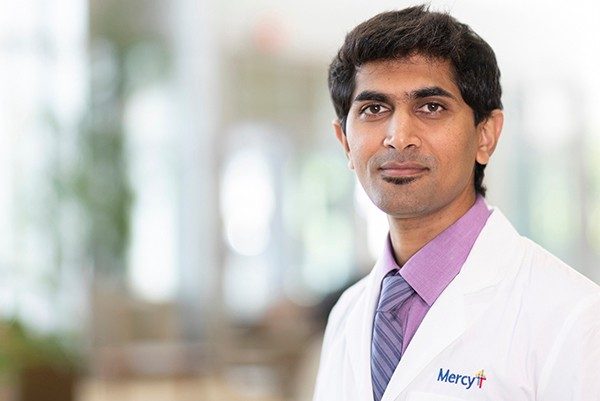 Interventional Cardiologist Dr. Sushruth Edla will be the primary presenter at the Heart Healthy Lunch and Learn program at Mercy Jefferson on March 3.
For information call Mercy Clinic Cardiology practice manager Lisa Whaley at 636-933-5055.
The Lunch and Learn programs are free to community residents, and lunch is provided for all registered attendees. Community residents can request email notifications of upcoming Lunch and Learn programs. Email invitations will include direct links to the online registration portal. To sign-up, email [email protected] or call Donna at 636-933-5747.
The April Lunch and Learn program will feature a urologic health information program from Mercy Clinic Urology – Jefferson surgeon Dr. Patricia Heller on April 8.