The patient who nominated Janet Barnes, RN, for the quarterly DAISY Award at Mercy Jefferson recognized her dedication to his feelings about where he was moving to when he was discharged from the hospital.
"I was sad about where I would go and how I would make it in the world," the behavioral health patient wrote on the nomination form. "She made me feel good about where I would go and that I would be safe and happy. I learned that where I was headed was so nice compared to where I previously lived before, and I was so happy to know that."

"She showed much sympathy and concern about my feelings and situation. She showed love to me when I was scared and unsure."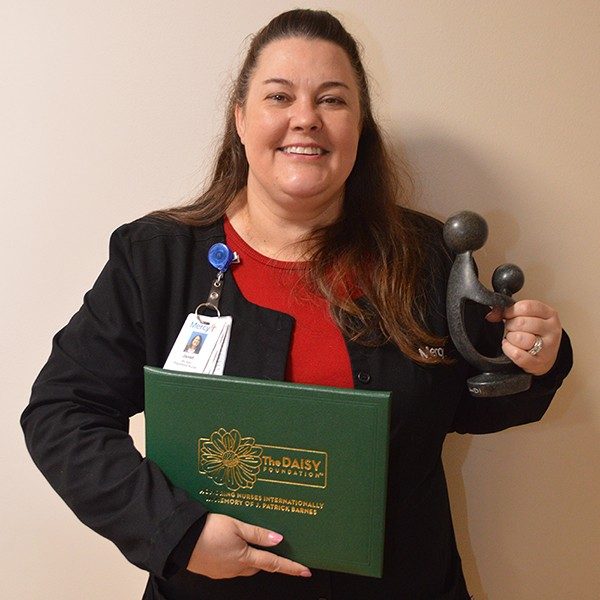 Mercy Jefferson presents the DAISY Award quarterly and received 100 nominations for nurses from patients, visitors and co-workers from October through December.
DAISY is an acronym for Diseases Attacking the Immune System. The family of Patrick Barnes established the Daisy Foundation in 1999 to express gratitude to nurses for the work they do for patients and their families every day. The award is presented in more than 1,900 healthcare facilities in all 50 states and 15 countries.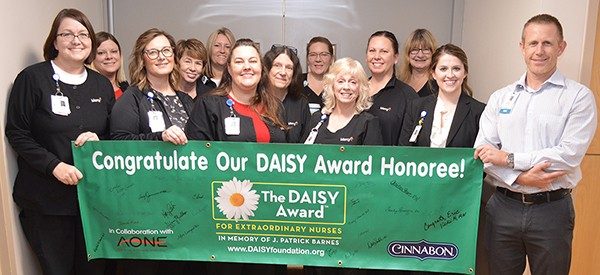 One of her patients nominated Janet Barnes, RN, for the comfort and support she showed him during his stay at Mercy Jefferson.
During a recognition ceremony on the third floor Behavioral Health Unit, Janet received an official DAISY pin, a certificate, and a hand-carved stone sculpture entitled "A Healer's Touch." Additionally, the national award calls for a celebration for all co-workers in the unit with cinnamon rolls – a favorite of Patrick's during his illness.
"The Barnes family asks that whenever and where ever nurses smell that wonderful cinnamon aroma, they stop for a moment to think about how special they are."

For more information visit The DAISY Foundation.