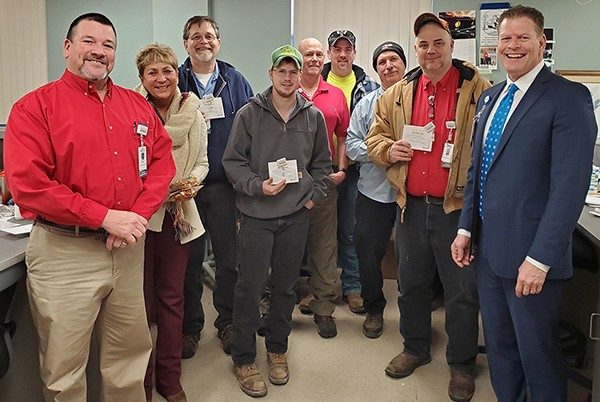 The Facilities Management team received their new four-star badge reels.
If things look a little brighter around Mercy Jefferson these days, it could be an extra gold star adding to the glow. The Centers for Medicare and Medicaid Services (CMS) has refreshed its star ratings, and Mercy Hospital Jefferson has moved up to four-star status.
The improved rating is part of an ongoing trend that has seen our hospital climb steadily from a two-star distinction on the agency's Hospital Compare website, which focuses on quality of care at more than 4,000 hospitals across the country.
In combination with the recent Leap Frog announcement of our sixth consecutive Grade A for Patient Safety, Mercy Jefferson is in elite company. Only 8% of hospitals in the United States have earned Straight A status. 
Check out our celebration photos here.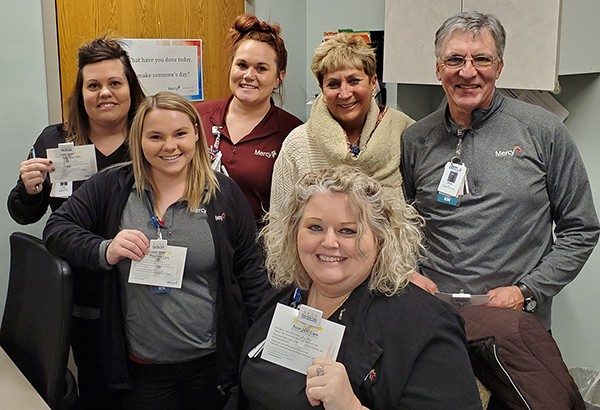 New four-star badge reels were delivered to Wound Care co-workers.
"Data collected in establishing the CMS star rating includes a wide variety of factors including patient experience, hospital cleanliness and quietness, communications and responsiveness with care givers, especially medicines, pain management, discharge information and care transition," said Lori Schultz, director of quality at Mercy Jefferson. "The analysis also includes data on timely and effective care especially in the Emergency Department, patient safety indicators, reduced infection rates, readmissions and much more."
Mercy Jefferson celebrated the latest achievement by presenting all co-workers with a new "Four-Star Care" badge holder to wear proudly. But we are not resting on this latest achievement; we must continue to improve how we treat those who come to us for care and work to reach five-star status in the near future.
Mercy Jefferson President Eric Ammons led teams of senior leaders delivering new badge reels beginning with night-shift co-workers on Friday morning, and gold star balloons were displayed throughout the hospital.
"The community has witnessed a tremendous transformation in the physical structures and improved access to care on our main campus," Ammons said. "All during our construction project, we continued to talk about the people who provide a direct connection to our patients. Their work may not always be as easy to see, but this recognition from CMS and our continued high marks for patient quality care and safety prove that our improvements go way beyond new buildings."
Click to see all the rankings for hospitals in our area.