The Comfort Zone offers hope and healing to children ages 4 to 17 who have experienced the death of a loved one. The support group meets from 6:30 to 8 p.m. on the last Thursday each month in the conference room at Mercy Hospice - Jefferson, 151 Industrial Drive, Festus. The next meeting is planned for February 27. 
The free program is open to community residents and is facilitated by Mercy Hospice Jefferson Bereavement Coordinator Kelcey Johnson, BSW, and Hospice Clinical Supervisor Tricia Rhodes, RN.
"Like adults, children experience grief but express it in different ways," Rhodes said. "In a safe and supportive environment with other kids going through the same thing, they can start to heal."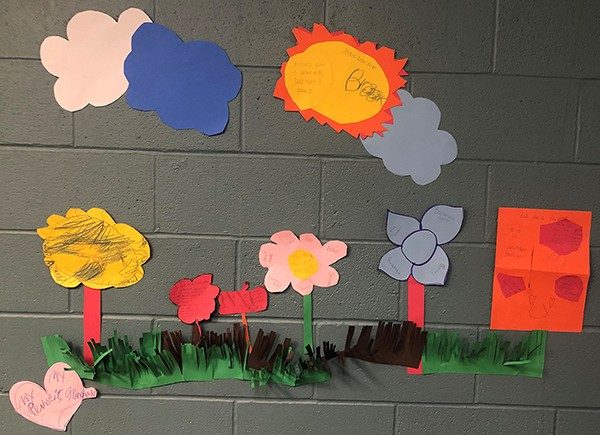 Children created a garden for their memories of loved ones at the January meeting.
The program includes snacks and activities each month with the opportunity for kids to share their feelings.
"The attendees help each other by being able to relate to one another," Johnson said. "Many times children can feel alone because they are unable to express how they feel in their day to day lives. We do have a wide age range, but the younger kids are able to look up to the older kids in the group." 
The kids enjoy hands-on activities, expressing their grief through creativity.  The activities allow for a fun environment while also allowing the kids to express themselves.
"At our January meeting the kids created a garden. On the flowers they drew or wrote memories that they have of their loved ones," Johnson said. "One girl had a picture of cheesecake and put it in our garden because her dad loved cheesecake. After we were done the kids shared their creations. These memories and supports are what can help them grow and overcome obstacles in their grieving journey."
For more information or to register for an upcoming meeting call 636-933-5779 or email [email protected].